Abacus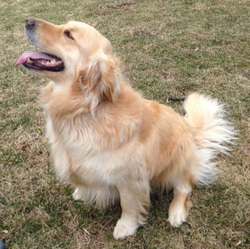 Abacus is a stunning 4-year-old Golden Retriever who has lived with her former family since she was a puppy. She was adopted to be a companion to another family dog who has since passed on. With their daily life busy with three young children (ages 1, 4, & 7), the family feels Abacus would be better off with another adopter who has the time to devote to this deserving young girl. Abacus spends a great deal of time outdoors and alone now since her canine buddy died. She sleeps in her owner's office but is not allowed in the family's daily living area. She craves affection and has that typical "I want to be with my humans" Golden personality.
SGRR's volunteers who met sweet Abacus found her to be delightful and fun. She is a spirited dog who loves to play and needs to learn when enough is enough. They described her as "appearing healthy, but slightly overweight. She has nice white teeth and a pretty blonde coat. She greeted us with sniffs and tail wags. She was curious and the tail was always wagging. She was very contented to sit in front of my wife during our conversation to let Ellen stroke her chin and pat her. She was very friendly to us even though we were stranger. We stroked and petted her all over. She allowed me to touch her all over, including handling her paws. When evaluating her leash skills, she did not pull to go ahead. We walked a short ways, and she wanted to walk more; and she wanted to eat the treats I had in my hand. She jumped and pranced for the food. (very cute!) She was not afraid of the leash or the martingale collar I placed on her. When I stopped, she stopped and sat by my side. When testing her with treats, Abacus let me take the food back. She looked at me to say " Hey, what's up with that?!?," but she did not try to get it back. She is very trainable and has not forgotten her basic commands from a 3 week training school she once attended. This is a very nice dog who needs some fine tuning, but will make a wonderful friend and companion!"
Abacus has that face that you could picture being on a box of dog biscuits! She even appeared with her trainer in a local commercial for a bank - just as pretty as can be! But Abacus is more than just a pretty face - she is a wonderfully sweet Golden girl who longs to be the center of someone's world. She is even good with the family's cat.
Abacus is spayed, heartworm negative, and will be brought up-to-date on all vaccinations before going to her forever home. Contact the
Donna
to be considered to adopt this lovely lady. If not yet approved, please fill out an
application
to be considered.