Alice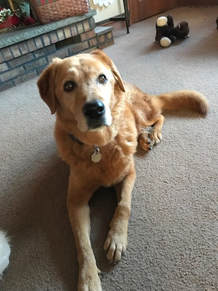 UPDATE

4/05/18

:
Alice has a gentle, independent spirit that grabs your heart. She is a sweet 7-year old Golden Mix who was returned to Sunshine after a few weeks. Although loved very much by her first adopter, it was not the right match since Alice loves socializing with people and other dogs. She returned to her CT foster home as if she never left, greeting the two resident dogs happily, finding her favorite dog bed, and settling right in. Two of her favorite things are being
outside in the yard, and peanut butter! Once discovered, she was hooked, and she takes her arthritis pills with peanut butter happily! She also is a funny girl about her dinner. After sitting patiently waiting while the two resident dogs are fed, Alice slowly eats one piece of kibble at a time. So cute. She gives a little howl at the door when she wants to go out, and has taught the resident dogs to do the same!
Alice has beautiful brown eyes that seem to see deep into you when she looks at you. She is vocal at times and speaks to you, announcing visitors and cars in the driveway. When told "No" she responds well and quiets down. She takes an inexpensive arthritis medicine, with which she has no mobility problems. She loves both leash walks and outside time in the fenced back yard, and has been left alone in the house with no problems. She is such a good girl, she could fit into almost any home. Her one restriction is cats, because Alice has a high prey drive. Her fosters feel she would be happy with more than one person in her home, or with one person provided she socializes with other people and dogs regularly.
ALICE'S STORY:
Pretty Alice was found as a stray in a suburban area of New Orleans. She obviously had been someone's pet and was well cared for, and yet no one looked for this sweet girl. Alice is a 7-year old, 60 lb. Golden Mix with a lovely red-gold coat. Although not a purebred, she is very close, and inside she is 100% Golden-hearted! The reason we believe she was someone's pet is that she had been spayed, tested heartworm negative, did not have any parasites, and her coat was not matted or in bad condition.
She is a dream dog in a car, loving to ride and behaving nicely. She walks well on a leash and takes treats gently. Alice met an overly-friendly dog at the shelter who was not being a gentleman about all the sniffing he was doing, and she just turned her back on him, ignoring the dude! Alice has a high prey drive and cannot live with cats. She is a chatterbox and gives a little howl to let you know she is hungry for her breakfast! Alice has had no accidents, has nice house manners, and likes to help herself to a nap on the sofa.
Alice is a true Southern belle and we believe she will bring so much joy to someone's home.
If you would like to be part of her rescue story, please contact the
adoption committee
to be considered. If not yet approved, please fill out an
application
to be considered.
Rescued dogs come with a range of needs - from behavioral to emotional to medical. When approved applicants adopt such dogs, they agree to continue the rehabilitation we have begun.