Amber - adoption pending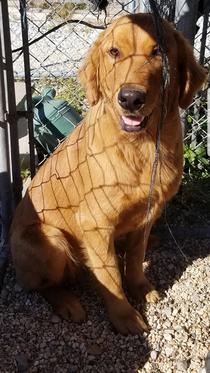 Amber

is a stunning purebred Golden Retriever, estimated to be about 1 year-old. She came into the Louisiana shelter clean, with nails trimmed

, and pearly white teeth. Gosh, she had to be someone's dog, and we just cannot figure out why no one came looking for her.



Amber is a little timid, but warms up quickly.

She is a tad head-shy when you reach for her - like maybe she had been hit in her previous life - but she exhibits absolutely no aggressive behavior. She walks well on a leash and does not pull at all, but she does need some leash guidance, as she changes from left to right and will try to go through your legs.
Amber attempts to jump up, but immediately gets down when corrected.
She listens to the "no" command, and will take well to training.
She rides well in a car and
is housebroken.
She whines when she needs to go outside.

The whining gets louder if you ignore her, until you take her to potty.

Smart girl!
She slept in a crate at her foster mom's bedside.

She whined at first, but then went to sleep when the lights were turned out and slept all night long.
Amber got along with all of the dogs in the foster home and showed no aggression.

Her tail was wagging from initial meeting until she left my home.
She showed a curious interest in the cat, but did not charge at her and obeyed when the foster mom said "no."
This is a wonderful, smart, gentle girl.

She will make a great family member.

She just needs someone to put in a little time with her.

She is very smart and eager to learn.
Amber is spayed, up-to-date on vaccinations, micro-chipped and heartworm negative. She will be ready to travel north in mid-November to be directly adopted. If you are approved to adopt through SGRR, contact
Donna
to be considered to adopt this incredible girl. If not yet approved, please fill out an
application
to be considered.
Rescued dogs come with a range of needs - from behavioral to emotional to medical. When approved applicants adopt such dogs, they agree to take on whatever comes with the dog. It is up to YOU to continue the rehabilitation we have begun. This is what it means to rescue.