Ashley

Ashley's recovery from her femoral head osteotomy surgery has been slow and has required more rehabilitation efforts than was originally expected.
The Memphis Legacy Fund has generously provided for follow-up orthopedic exams and additional x-ray films.



Because of the generous support received from The GoldStock Fund, Ashley is now able to continue her rehab giving her the much needed extra time and attention she needs for her recovery.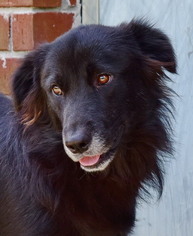 If you are seeking a companion who will laugh at all of your jokes and think you are the most wonderful person on this Earth, adopt Ashley! This pretty girl is about 1 years old and is likely a retriever mix of one variety or another... a Flat Coated Retriever mix or a Golden/Lab is our best guess. Ashley weighs about about 65 lbs. She is a tall girl and could probably stand another 5 pounds on her frame. The white on her face is simply her coloring and not a sign of age. Her teeth are pearly white and are in good condition. Adorable Ashley is good with other dogs and enjoys playing with them. For a young dog, Ashley has a calm demeanor. When Lisa offered Ashley a treat, she immediately sat and waited for Lisa to give it to her. She surely seems like she was once someone's pet. What a shame they did not come looking for such a sweet dog with the kindest eyes imaginable.
Ashley is as happy as a lark, running and playing just like any other dog, but b
ecause of a bit of a hitch in her giddy-up, we had Ashley's hips x-rayed. The x-ray showed an abnormality to her hip, and upon consultation with a
Veterinary Orthopedist, we have opted for Ashley to have a femoral head osteotomy prior to adoption. Ashley is recovering nicely and will be ready to head to her forever home in late July. We expect she will have a full recovery,
actively using the limb in one month. However, it can take up to 6 months before complete healing and function are evident. Therefore, she will need to be eased back into activity, just like a human recovering from surgery.
Ashley is

is heartworm negative, up-to-date on vaccinations, spayed, and microchipped.
If you are already approved to adopt through SGRR, contact
Donna
to be considered to adopt this deserving soul. She is one of the happiest, sweetest, most amicable dogs we have had in a very long time. Please let her know that she is loved! If you are not yet approved, please fill out an
application
.
Unfortunately, since the early 2000's, animal rescue workers have noticed an increasing phenomena called "Black Dog Syndrome," which is that black dogs tend to be adopted slower than dogs of other coloring. As a result, there are more black dogs in shelters, and they have a higher euthanasia rate – purely because of the color of their coat! In a recent survey done by the adoption website "Petfinder," Petfinder member shelters and rescue groups reported that most pets are listed for 12.5 weeks on Petfinder, whereas, less-adoptable pets (such as black, senior, and special needs pets) spend almost four times as long on Petfinder.

You may ask, "What does this have to do with a Golden Retriever rescue?" SGRR often goes a step further than basic rescue, taking in dogs that might be thought of as "less adoptable" because of the physical conditions in which they are found. We have recently been taking in more and more of these special black dogs, many times considered to be golden mixes, into our rescue. We see an overwhelming interest in these "black goldens," getting requests about them the minute we publish their picture on our site! You never know… that "black golden" you see on our website may be a mix of wonderful breeds such as the Labrador or Aussie or Flat Coated Retriever! Either way, like all of our dogs, these pups are just looking for a family to look past their coloring and see their true "golden heartedness," to love them and make them their own! You'll be glad that you did.