Basil - adoption pending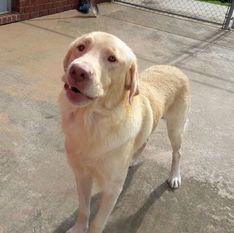 Six-year-old Basil and his friend,
Sage
, were left tied to a tree in Mobile County, AL. It is puzzling to fathom the mentality that lead to abandoning a dog in such a manner. However, we will look at that day as being Basil's lucky day as he will never have to worry about being left behind again.
Handsome Basil has gorgeous amber eyes and liver-colored mouth and nose - such a beautiful face! He has a lively personality and makes everyone who meets him smile! He has a funny trait of not liking to get his paws wet when he goes outside to potty after it has rained! He keeps his kennel clean, a good sign that Basil is house-broken. This Labby boy is good with dogs, but cats are unknown. He would probably enjoy some kids to play with, but would do well as a companion for just about anyone. He is good on the leash and loves taking walks.
While Basil was at the vet's office and under sedation for his neutering, an emergency occurred and Basil became a blood donor. Unbeknownst to him, Basil saved another dog's life! How is that for good karma!! Basil has been brought up-to-date on vaccinations, and micro-chipped. He is being treated for a skin condition but it won't be long until he is stunning once again. Basil is heartworm negative, weighs about 65 lbs, and will be ready to come north on 7/15/17 to be directly adopted. If you are approved to adopt through SGRR, please contact Donna at
SunshineGoldens@gmail.com
. If you are not yet approved, visit our
website
to fill out an application!