Bear - adoption pending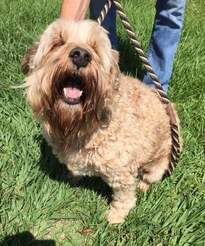 Our rescue received a request for H-E-L-P from one of the vet's offices in the south where our dogs are cared for. One of their clients had to go into an assisted living facility and could not take her beloved dog with her. Bear was brought to their office where his mom knew he would be safe. However, the owner's sister plan is to pay the vet bills and have a neighbor shoot Bear since the vet's office refuses to euthanize him.
Bear is a
Ganaraskan
, a relatively new breed, developed only about 30 years ago by a group of breeders who primarily lived in the Ganaraska River region of Ontario. Their goal was to create the ideal therapy dog with above average intelligence, eagerness to please, and a non-shedding coat; traits that automatically make this dog a wonderful family companion. As a matter of fact, Bear's former mom is diabetic and he would alert her to fluctuations in her blood sugar levels, in addition to being her best buddy ever!
Six-year-old Bear has lived all of his life as a beloved companion and as an inside pet. He is good with other dogs, walks nicely on a leash, and has polite house manners. He weighs about 40 lbs, but could stand to drop about 5 lbs. He is heartworm negative, neutered, and has all of his vaccinations. Bear is a sweet dog, but is getting depressed at the vet's kennel because he's not with his mom. We are hoping to get Bear in his forever home ASAP. He will be traveling north to be directly adopted on 5/27/17. If you are approved to adopt through SGRR, please contact Donna at
SunshineGoldens@gmail.com
to be considered to adopt this little teddy bear. If you are not yet approved, visit our
website
to fill out an application! Here is a
little video of Bear
!