Bear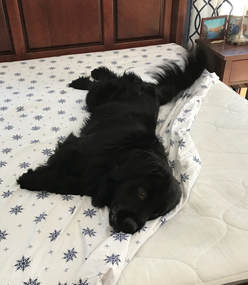 Update 2/18/18:
Bear is with a wonderful foster family in CT now. They report their first impressions, "The first day has been good. He explored the yard and is now exploring the house. He definitely has a look of both Lab and Golden. His head is Lab. His long fur and tail look Golden. He has lots of energy! He does seem to calm down, but definitely has energy checking out new places and is not shy at all. He has been running around our downstairs that isn't gated off. He is food obsessed! He was checking us out making lunch and put his paws up on our counter! He will probably do well with training with treats. We had him out to walk a couple of times. He does OK on the leash; he pulls some at first, and is very strong, and then he seems to settle in. He seems to be housebroken. No accidents so far and he pees multiple times while walking, like a typical boy. We walked him close to the road by our house and he didn't seemed bothered by cars going by. We are thinking to take him to New Haven to test him on typical sidewalks with people, cars, and other dogs. Last night, we went to bed around
11:30
and put Bear in his crate in the living room. There was no whining. He slept until almost 6 and then went out to pee. He has been very good. He has pretty good house manners. He doesn't jump up much, except when really excited. He helped me make the bed this morning, which is the picture attached. Ha ha!"
Bear's Story:
Sweet Bear was purchased by his former owner via a Craigslist ad. He has lived with his family and another dog for the past year of his life. Unfortunately, his dad had to take a job that will keep him away from home for long hours. With 3 young children, the additional care of 2 dogs was too much for mom to handle on her own and the family reached out to our rescue for help.
The family shares that one year old Bear's mother was a purebred Golden Retriever and his dad was a purebred Black Lab. Bear spent much of his day outside in the fenced-in yard where he loved to play with the family's German Shepherd. Bear would come inside for a while and then want to go back out and play. Inside, he was hyper for about 5-10 minutes, but then settles down and relaxes either next to one of his humans on the couch or in his crate. Bear rides nicely in the car but needs work on his leash skills and overall manners. Like many dogs, Bear is not a fan of fireworks or thunder, and he looks for a quiet spot when the vacuum is running.
Bear has an active energy level and requires an energetic adopter or family. If you are looking for a buddy to spend you days and nights with, Bear will gladly oblige. If a hike in the mountains is in your plans, he'll be right at your side. Whatever your day holds, this black beauty will be happy to be right at your side. Bear weighs in at 60 and is simply stunning! This is a wonderful dog, who with time, training, and patience, will blossom into an awesome companion. He's a wee bit of a fixer upper!
Bear is new to our rescue and we will update his bio as we learn more about this endearing boy! Bear is up-to-date on vaccinations, heartworm negative, neutered, and micro-chipped. He will be ready to come north to his forever home in mid-to- late February. This boy is not going to last! If you are approved to adopt through SGRR, contact
Donna
to be considered to adopt this incredible boy. If not yet approved, please fill out an
application
to be considered.
Rescued dogs come with a range of needs - from behavioral to emotional to medical. When approved applicants adopt such dogs, they agree to take on whatever comes with the dog. It is up to YOU to continue the rehabilitation we have begun. This is what it means to rescue.
Black Dog Syndrome

Unfortunately, since the early 2000's, animal rescue workers have noticed an increasing phenomena called "Black Dog Syndrome," which is that black dogs tend to be adopted slower than dogs of other coloring. As a result, there are more black dogs in shelters, and they have a higher euthanasia rate – purely because of the color of their coat! In a recent survey done by the adoption website "Petfinder," Petfinder member shelters and rescue groups reported that most pets are listed for 12.5 weeks on Petfinder, whereas, less-adoptable pets (such as black, senior, and special needs pets) spend almost four times as long on Petfinder.

You may ask, "What does this have to do with a Golden Retriever rescue?" SGRR often goes a step further than basic rescue, taking in dogs that might be thought of as "less adoptable" because of the physical conditions in which they are found. We have recently been taking in more and more of these special black dogs, many times considered to be golden mixes, into our rescue. We see an overwhelming interest in these "black goldens," getting requests about them the minute we publish their picture on our site! You never know… that "black golden" you see on our website may be a mix of wonderful breeds such as the Labrador or Aussie or Flat Coated Retriever! Either way, like all of our dogs, these pups are just looking for a family to look past their coloring and see their true "golden heartedness," to love them and make them their own! You'll be glad that you did.