Bishop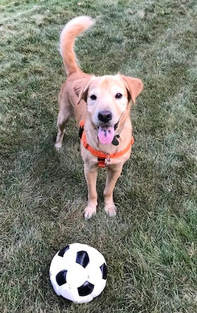 Bishop is an affectionate, handsome Golden mix of about 12-14 months old. He is still a big ole energetic 50 lb. puppy in his heart. Our terrific local volunteer in the South spotted him in a Mobile, Alabama shelter, where he was unclaimed after having been picked up as a stray. Once his health and wellness were taken care of and his Heartworm treated successfully, we brought him North for a better life and to find a forever home.
Bishop is
charismatic
, the first dog you will see in a room full of dogs or people - friendly, outgoing, loving. He is your new best friend the minute you meet him. When you enter your home, he greets you with the greatest delight imaginable - like you've saved his life, literally. In a flash, he is resting his head on your leg or your hand.
After his very short time up North with his foster family in NYC, where he passes by 30 dogs a day, his heart is full of love and unconditional trust. He has come so far in a month - he is one smart fellow who readily shows his mastery of all the basic obedience commands. He's relaxed, loves to catch a nap, and he's housebroken. He's amiable toward other dogs, and he loves being around people and children. He thrives on exercise, loves to run, fetch and play.
He is discovering a new, curious world every day. And, he has a bunch of remarkable looks that say:
Someone's at the door?
OMG here come five different size dogs on leashes!?
You mean I have to sit and stay before I dive into my food bowl?
Do I really get regular meals—and treats—every day?
I like the vet's offices, lots of nice dogs and people and treats!
I can actually lay on my back and get my tummy rubbed?!
Bishop is a loving, loyal boy who's ready to bring brightness to a new forever home.
If you are looking for a loyal companion who will follow you everywhere then,
Bishop
is the guy for you.
He
is up-to-date on his vaccinations, micro-chipped, and neutered. All that is missing is a place to lay his handsome head where he will know that he is home, forever. If you are approved to adopt through SGRR, contact
Donna
to be considered to adopt this incredible boy. If not yet approved, please fill out an
application
to be considered.
Rescued dogs come with a range of needs - from behavioral to emotional to medical. When approved applicants adopt such dogs, they agree to take on whatever comes with the dog. It is up to YOU to continue the rehabilitation we have begun. This is what it means to rescue.