Cady & Cody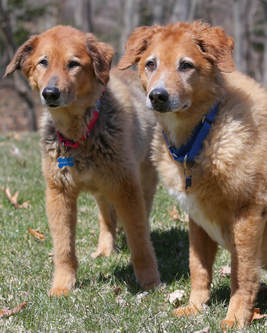 UPDATE 4/13/18:
Cady and Cody have been in their northern foster home in New York City for a few days.
This pair is adorable and easy to love and care for — if you like double the love, please ask about them!
Foster Mary tells us: "
Cady and Cody are two sweet and loving dogs. Both have good energy and enjoy their walks together. They are a bonded pair who walk easily side by side on their leashes. they are very easy to walk no pulling. They enjoy exploring the park near by and meeting new people and dogs. Cady and Cody are great travelers love the car! Jump in back set together and are ready for an adventure. Both traveled to meet their new foster grandparents and were a hit. They played in the backyard, rolled in grass and chased a squirrel. After their walks, they like to have a drink of cold water and take to the sofa or doggie beds for a nap in the sun. They let you know when they want to go out by walking to the door and nudging their leashes. They know commands, sit, wait, lets go, and come.
They do not beg or counter surf, nor touch anything that is not theirs. Both like to cuddle with their humans. Cody enjoys playing with his teddy bear and ball. His sister, Cady, likes to sit next to her humans and get belly rubs. Their coats are growing back at the moment Cady reminds us of a little fox and Cody as a sweet bear. Cody seems to have some curl or wave to his new coat growing in.
"
Cady & Cody's Story:
Cody and Cady are a brother and sister Golden mix pair who we believe have always lived together. Now 11 years old, their former family turned them into a LA rescue. We suspect there must have been an illness or loss in their family with no one to take them in. Sunshine was contacted immediately to help them because they were overwhelmed and frightened by the sudden change in their lives.
Both Cady and Cody are house trained, heartworm negative, and had no parasites, all indications that they lived as inside dogs who were well cared for. They love to spend time outside together. Both have the "Golden Nudge" down pat and will come up to you quietly and nudge your hand to be petted. Cody loves to have his chin scratched, and both welcome their kennel manager with wagging tails every morning.
The first week they were overwhelmed. With time to settle and since staying in the same kennel as Cody, both have relaxed and their personalities are starting to shine. Cady, painfully thin at 35 lbs., was the more nervous of the two. Cady has arthritis in her back knees takes inexpensive arthritis medicine. Otherwise, they are in generally good health with a moderate energy level.
Cody is 55 lbs. and could also gain a little weight. He is more gold without any black undercoat and also had to be shaved down due to severe matting.
We feel that Cody and Cady lived quiet lives and that a quiet home, possibly with a physically fenced yard where they can roll and play, would be perfect for them. If you have a big heart for seniors and for rescues, it will be so rewarding to welcome Cody and Cady to a loving retirement life. As their coats grow out you'll see them become as pretty as they are sweet. Look into their eyes and you can see their sweet souls. They just want to feel loved and at home again.
If you would like to be part of Cody and Cady's rescue story,
please contact the
adoption committee
to be considered. If not yet approved, please fill out an
application
to be considered. Rescued dogs come with a range of needs - from behavioral to emotional to medical. When approved applicants adopt such dogs, they agree to continue the rehabilitation we have begun.