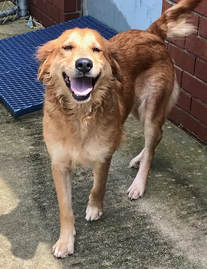 Update 7/25/17:
Cassie has arrived in the northeast and is being fostered in a loving home in CT. Her foster mom shared, "
Cassie is doing great and is so sweet. She is a little shy with my dogs but loves people. She has a little hitch in her giddy-up in her back leg, but handles it well. She is so loving it is hopefully going to be easy to place her in her forever home. We have already fallen for her!
I can't say enough about what a sweet and lovely little girl she is!"
Cassie's Story:
Cassie is a Golden mix whose former owner brought her into the shelter on a rope. He spoke not a word of English and had his nephew as an interpreter, so not much information about her past was able to be gathered. She weighs about 45 lb but Cassie needs to gain a bit of weight and may top out around 50 lbs. Cassie is about 5 years old and is as sweet as can be. She is super friendly, loves attention, and has a smile that lights up a room! She jumps up a bit, but is easily corrected. This sweetheart is good with other dogs and was even good with the dog savvy cat she met at the vet's office.
In her past life, Cassie had a broken pelvis, which we do not want to think about how it might have happened. She did not receive proper vet care for her injury so it healed on its own. This does not seem to give her any trouble other than a slight limp from time to time. Cassie also came to us with a growth on her nose which we had biopsied and it turned out to be a simple ingrown hair. PHEW!
Cassie has been brought up-to-date on all her vaccinations, is spayed, heartworm negative, and microchipped.
If you understand "rescue" and would like to be part of Cassie's rescue story
please contact Donna at
SunshineGoldens@gmail.com
if you are already approved to adopt. If you are not yet approved, visit our
website
to fill out an application!
Rescued dogs come with a range of needs - from behavioral to emotional to medical. When approved applicants adopt such dogs, they agree to take on whatever comes with the dog. It is up to YOU to continue the rehabilitation we have begun. This is what it means to rescue.