Celese & Celeste - happily adopted!

Foster update: 4/06/2015

I have to say I am speechless. I never expected these girls to adapt so well and so quickly given their traumatic start.

Little Celeste is in a word, adorable. She loves to snuggle on your lap, bury her face and make the cutest snoring sounds ever heard from a 12 lb dog. She is also awesome at retrieving tennis balls. Pictures don't do her justice. When she got off the transport, you could hear the collective "awwwww!"

Celese is a surprising 60 lbs. I would not have guessed that as she is on the smaller side for a golden. You will never meet a more gentle personality. She loves to be petted and will give you the famous golden paw to get you to continue whatever attention you were providing.

Both girls are looking better but have a way to go before their coats are all that they will be. They truly love each other but interact and play with my other dogs. Celese treats Celeste like her puppy. They are very good with cats. Little Celeste is afraid of my chickens which are bigger than she is :) They are doing very well on house training skills and sleep together in one large crate which they keep clean. These dogs have the most gentle energy and require only moderate exercise and lots of love to give you years of unconditional love in return.
---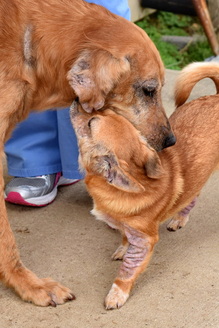 Celese & Celeste's story
:


In early February, SGRR received a call from the humane society in Baldwin County, AL about 2 two dogs that were seized from a home after living in the most horrid conditions one could imagine. The local newspaper reported, "Deputies were originally at the mobile home to arrest the 44-year-old man for charges of public intoxication and drug paraphernalia possession. But when they went inside the home to question him, they had to come right back out because of the overwhelming stench. Black mold lined the walls and feces mixed with garbage lined the floor. Upon further questioning, they learned that his wife was living there as well and also had outstanding warrants. Their 14 year old son was taken into custody and ultimately turned over to a family member." Also living amidst the filth and excrement were 2 dogs and 10 cats. The dogs (and cats) were held at the shelter for 30 days before the judge allowed their release. And thus begins the rescue story of Celine and Celeste.
Celese is a sweet tempered girl who is thought to be about 5.5 years old, while her pal, Celeste, is about 3 years old. We believe Celese is a purebred Golden Retriever, but her coat currently looks more like that of a Lab. Without any proper nutrition and living in such repugnant quarters, the condition of these two babies suffered greatly. During their time at the shelter, veterinary treatment was delayed, but that is all behind the girls now.
Typically, SGRR does not place smaller dogs but with all this pair suffered through, the thought of splitting these BFFs up just tore at our heartstrings. We know there are kind souls in the world who will read about Celese and her Chiweenie pal, Celeste, and will want to give them both a loving and forever home.
The girls are fine with other dogs but they are mostly indifferent to them and simply enjoy one anothers company. They can be fed side-by-side with no food issues. They lived in their former home with 10 cats so they are kitty-friendly. They met our vet's 10 year-old son and enjoyed his company. We do not believe either Celese or Celeste were ever walked on a leash before, but Golden girl Celese seemed to enjoy doing so – it's one of those practically in-bred traits of a Golden - to love going for a walk, right? And Celine has that typical golden personality and loves to be petted and with her people. Celeste, while a bit reserved initially, is following right along and has learned how good petting and cuddling feels.
The girls are on their way to the best time of their lives now. They are heartworm negative (probably because they never went outside before!), up-to-date on vaccinations, spayed, and micro-chipped. They will be going to a foster home soon where we will learn more about them, and they will learn all about feeling loved! If you would like to open your heart and home to these girls and are approved to adopt through SGRR,
Donna
to be considered to adopt Celese & Celeste. If not yet approved, please fill out an
application
.
Photos of their former home can be viewed by clicking here, though we warn, they are not for the faint of heart.
Update 3/25/15:

What a HUGE improvement we see already in the coats of Celese & Celeste. It is amazing what some good nutrition and TLC can do! The girls are coming along wonderfully and are such true sweethearts. Celese's

golden spirit is shining and her tail is wagging nonstop!

She loves, loves, loves being petted and adores everyone she meets. Little Celeste is known at the vet's office as the "kennel manager." Each morning she slips under their kennel fence and greets every dog in the vet's boarding area as if to say, "

Did you have a good night's sleep? Is there anything I can get for you this morning?

" So very cute! Celeste loves to play ball and looks like she has some soccer skills going on!




Despite the former circumstance in which they lived, this pair keeps their kennel clean and wait until they are let out into the yard to go potty. They have blossomed and will continue to do so when they are adopted. But for now, they await someone to read their bio and fall in love with them. When they lay down at night to go to sleep, the vet techs say they can hear the girls saying their prayers, asking God to send a family to adopt them together. Are

YOU

ready to fall in love – twice!?!

Check out our photos!

SIGNS OF ANIMAL CRUELTY
It's easy to recognize such overt forms of abuse as hitting or kicking, but other signs of animal cruelty can be more subtle. According to the Animal Rescue League of Boston, these "red flags" include:
Howling or barking for a long time or higher-pitched, more persistent vocal sounds than usual
Singed, matted, or chronically dirty fur
Wounds, unusual scars, hair loss or frequent limping (often on different legs)
Prominent ribs
Animals kept caged or tied for long periods without regular interaction with people
Lack of protection from the weather or feces-or debris-strewn living areas
Extremely tight collars or halters that dig into an animal's face or neck
A large number of animals arriving at or leaving a property
If you know of or suspect animal cruelty, it is recommended that you contact police or your local animal control officer.
Reference:
Magazine of Cummings School of Veterinary Medicine at Tufts University,