Cupcake - happily adopted!

Update -5/7/17:
Cupcake is doing wonderfully in her foster home and is learning what it is to be a beloved companion. Her foster mom shares, "
Cupcake has been continuing to adjust to the home environment. She enjoys the daily routine and is gaining more of our trust. She now sleeps in our room with the door shut instead of being in the crate and sleeps throughout the night nicely with no accidents. We have started to trust her for an hour or 2 at a time while we are not home, gated off in the "dog rooms" which are basically 2 large rooms dedicated to them. She seems to be doing well as we watch her on our pet cam and haven't caught her doing anything bad! She still will occasionally pick up something she is not supposed to and chew a bit, but we are continuing to work on showing her that she can only play with things that are hers. She is great with large groups of people as we had a gathering of 15 people at the house and she socialized with everyone! She has met a few dog friends at the house over the past week and has gotten along fine with them. Also, her jumping up at people from excitement is settling down as well.
At the dog park, she did great! We went during a non-busy time and she went up to every person in the park to get some pettings! lol S
he was more interested in the people compared to the dogs, but gets along fine with the other dogs. Cupcake is definitely settling in. I have seen her personality shine the past few days, and at the same time, she is more relaxed as well. We have stuff animal dog toys all over the house and she doesn't even rip them, which is super surprising. She does love tennis balls! She plays fetch with one of my other dogs until they are all tired out! She even brings them back and drops them for me. Check out Cupcake playing in
this video
! She absolutely loves to be the center of attention! Overall, with her background, we are very impressed!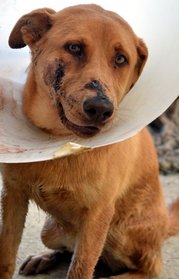 Cupcake's Story:
Cupcake's story with our rescue began in late February at 3:00 AM when the police in Mobile, AL received a frantic call from a woman who was crying and telling them that her neighbor shot her dog in the face. The police officers went out to the home and found the sweet dog all bloodied up. It seems that this dog was left out, chained up to the back porch, as is the case for all too many dogs in the south. For whatever reason, a neighbor came along at that ridiculous hour of the morning and shot this poor baby in the face. The nincompoop was truly shooting to kill this sweet dog by shooting her in the head! Had the bullet entered a millimeter to the side, Cupcake's spinal cord would have been severed and she would have died. But God had another plan for this sweet baby, who still has a purpose to fulfill in her life!
Unable to afford the cost of the vet bills, the woman relinquished her dog over to the animal control officer. Despite this starting out as a horrid situation, it turned out to be Cupcake's lucky day as she will never be left tied out or shot at ever again! When Cupcake first came to our rescue, we thought she had been shot with a pellet gun, as we have seen with many of the southern dogs who have been taken into our rescue. However, during her spay, an x-ray was taken that revealed that a bullet had entered Cupcake's nostril, exited the sinus cavity, and is lodged in the thick muscle of her neck. Upon neurological examination, no indications of disability were seen and her vision and hearing are not impaired. The vets at the clinic agreed that the bullet should be left alone as it is not causing any harm and will not interfere with Cupcake's quality or quantity of life.
We fast forward a bit, and our sweet Cupcake is now in foster care in CT. When she arrived, she came bounding down the transport ramp to proudly meet her human friends. One of our volunteers told us, "Cupcake was walking next to me so I leaned down to scratch her ears and her head and she sat there and closed her eyes. I got the sense that she was immediately transported to heaven. The look of pure bliss on this pup's face was priceless and Cupcake is sweetness personified."
Cupcake is estimated to be about 12-18 months old and weighs about 45 lbs. She is as loving and as affectionate as they come and as cute as can be! You can see the absolute sweetness in her eyes and in her smile, even in the picture where her face had been wounded. This moderately active dog has now regained her original beauty. Her fur has grown back nicely on her face and serves as a beautifully soft, fuzzy frame for her gorgeous honey colored eyes.
Sweet Cupcake loves people and desperately wants a "people" to call her own. Because it seems that Cupcake was never allowed to play with other dogs, she is a bit apprehensive when first meeting new dogs. She is spending time at doggy day care and has gotten increasingly more accustomed to having doggy friends. Cupcake is a little nervous about getting into the car and still needs help to do so, but once she is in the car, she settles nicely and rides very well. She often lays her head on her human's shoulder for the duration of the ride. Having spent most of her former life tied out on a chain, this little girl needs an adopter who will guide her in socialization. So many of the things that the average dog is accustomed to, this little lady has never experienced. With time, patience, and a sense of humor, Cupcake will blossom and become the dog she was meant to be.
Cupcake has been brought up-to-date on vaccinations, microchipped, is spayed and is heartworm negative. If you have it in your heart to give a girl who has had a rough start to her life a forever home, please consider Cupcake. If you are approved to adopt through SGRR, contact
Donna
to be considered to adopt Cupcake. If not yet approved, please fill out an
application
to be considered.