Dale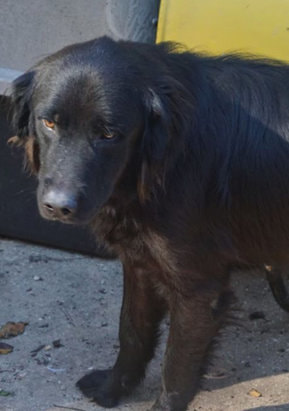 Meet Dale, a super-handsome "black Golden" who was found with his Golden friend, Chip, wandering on "Bad Dog Road" in a small town in southern AL. Sadly, many dogs are dumped on Bad Dog Road, but Chip and Dale were lucky enough to be found and taken to the Monroe County Animal Shelter. At first we believed Chip and Dale were a bonded pair, but as we got to know them we found they do not need each other and we will find each his own special home. (Chip is just beginning heartworm treatment and we will be posting his story on our website shortly.)
Dale is 8 years old and a Black Lab mix, probably with Golden Retriever. He is Mr. Personality and likes to speak back to you with a happy Woo-Woo-Woo when you talk directly to him. He is starved for attention and is full of himself, hoping for every toy, every pet, food, and all the love he can gather up. Dale is a good eater and walks along fine on a leash, but he needs some practice with his leash skills. Although he gets along fine with other dogs, we feel he deserves to be the center of someone's world and will be happiest as an only dog. This sweet and gorgeous dog adores people and is yearning to be loved by his very own family.
Dale is neutered, updated on his vaccinations, heartworm negative, and microchipped. He had a fresh grooming and is getting ready to travel north to his family on

December 9

.
If you would like to be part of Dale's rescue story, please contact the
adoption committee
to be considered. If not yet approved, please fill out an
application
to be considered.
Rescued dogs come with a range of needs - from behavioral to emotional to medical. When approved applicants adopt such dogs, they agree to continue the rehabilitation we have begun.
Black Dog Syndrome
Unfortunately, since the early 2000's, animal rescue workers have noticed an increasing phenomena called "
Black
Dog Syndrome," which is that
black
dogs tend to be adopted slower than dogs of other coloring. As a result, there are more
black
dogs in shelters, and they have a higher euthanasia rate – purely because of the color of their coat! In a recent survey done by the adoption website "
Petfinder
,"
Petfinder
member shelters and rescue groups reported that most pets are listed for 12.5 weeks on
Petfinder
, whereas, less-adoptable pets (such as
black
, senior, and special needs pets) spend almost four times as long on
Petfinder
.
You may ask, "What does this have to do with a
Golden
Retriever rescue?" SGRR often goes a step further than basic rescue, taking in dogs that might be thought of as "less adoptable" because of the physical conditions in which they are found. We have recently been taking in more and more of these special
black
dogs, many times considered to be
golden
mixes, into our rescue. We see an overwhelming interest in these "
black
goldens
," getting requests about them the minute we publish their picture on our site! You never know… that "
black
golden
" you see on our website may be a mix of wonderful breeds such as the Labrador or Aussie or Flat Coated Retriever! Either way, like all of our dogs, these pups are just looking for a family to look past their coloring and see their true "
golden
heartedness," to love them and make them their own! You'll be glad that you did.