Doc & Dena - happily adopted!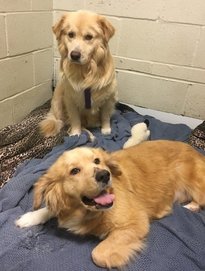 Doc & Dena are a pair of Golden mixes from Baton Rouge, LA. The individual who relinquished this pair claims to have "found" them during the flooding back in August 2016. Why they kept the dogs for 7 months, we have no idea. We suspect their story may not be entirely true as they turned in 6 dogs at the same time to the shelter. The dogs had all been kept in an outside pen and were all in horrid shape when they first arrived. In fact, 2-year-old Dena was in such terrible condition that the vets initially thought that she was a senior dog! Since arriving to our rescue in early March, both Dena and Doc have been receiving a ton of TLC and are nearly ready to find their forever homes.
Estimated to be about 2 years old, Dena weighs about 44 lbs. She is adorable and sweet, and she is very bonded to Doc. When the pair initially arrived to SGRR, they spent some time in a foster home before beginning heartworm treatment at our vet's office. The foster family shared that while both dogs were afraid to come inside at first, Dena quickly adjusted to being allowed to come up on the couch to cuddle! She would also follow the humans around as they moved from room to room.
Doc is estimated to be about 5 years old and weighs about 53 lbs. He is shy and reserved when first meeting new people and needs time to gain trust in the humans caring for him. Despite that it appears he was living in less-than-ideal conditions, there was something in his former life that he was missing terribly, be it a human or canine friend. When Doc goes to his forever home, we suspect that he will have a transitional period of settling in. His humans must be relaxed and patient, and need to give Doc the time he needs to adjust. Once a relationship based on trust, respect, and understanding is established, he will progress and unpack his baggage. What a beautiful thing that will be to experience!
Doc & Dena are good with other dogs, but have no known history with cats. They are spayed/neutered, up to date on their vaccinations, and microchipped. They are finishing up their heartworm treatment and will be ready to travel north to their forever home in late June. If you are approved to adopt through SGRR and would like a wonderfully, sweet pair of companions, contact
Donna
to be considered to adopt Doc & Dena. If not yet approved, please fill out an
application
to be considered.