Drake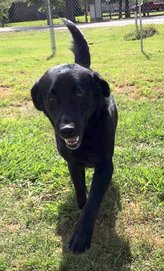 Drake is a BEAUTIFUL "black golden" boy who is estimated to be about 4 years-old. He was picked up as a stray in Mobile County, AL, and sadly no one came to claim this happy boy. But not to worry; it was Drake's lucky day because he is now on his way to finding a forever home where he will be loved and cherished.
Drake is good with other dogs and he is described as "sweet and playful." He greets our volunteers at the kennel with a happy tail wag. He loves to be petted, and with his sleek and lustrous black coat, you will never want to stop petting him. His photos do not do him justice – trust us when we say this boy is stunning! Drake's smile lights up the room and his presence will light up your life! With a moderate-to-high energy level, he would be a delightful walking or jogging buddy, happy to start the day with an early morning jaunt to take in all the wonderful scents that dogs like to sniff. Drake was cat tested at the vet's office where he is being kenneled - the cats hissed at him and he backed up. We do feel that if the cat ran, Drake would give chase so a cat-free home would be best for his handsome fella.
One of our volunteers in AL went to spend some time with Drake recently. She told us, "He is a big ole' puppy in the way he acts! He is VERY affectionate and soaks up attention. He is an incredibly pretty boy and his smile is amazing. He loves to be petted and is just a doll of a dog." Lisa continued, "Drake acts like a young, goofy Golden in black fur." He keeps his kennel clean and has a moderate energy level. Drake shows no signs of abuse in the past, and is trusting and loving. He got a B- on leash skills so that is one small area that could use some improvement. All-in-all, this is one AWESOME dog!
Drake weighs in at 65 lbs and has been neutered, brought up-to-date on vaccinations, and micro-chipped. He is under treatment for heartworms at one of our vet's office in AL and will be ready to come north around 5/20/17. If you are approved to adopt through SGRR, please contact Donna at
SunshineGoldens@gmail.com
. If you are not yet approved, visit our
website
to fill out an application!
Unfortunately, since the early 2000's, animal rescue workers have noticed an increasing phenomena called "
Black
Dog Syndrome," which is that
black
dogs tend to be adopted slower than dogs of other coloring. As a result, there are more
black
dogs in shelters, and they have a higher euthanasia rate – purely because of the color of their coat! In a recent survey done by the adoption website "
Petfinder
,"
Petfinder
member shelters and rescue groups reported that most pets are listed for 12.5 weeks on
Petfinder
, whereas, less-adoptable pets (such as
black
, senior, and special needs pets) spend almost four times as long on
Petfinder
.
You may ask, "What does this have to do with a
Golden
Retriever rescue?" SGRR often goes a step further than basic rescue, taking in dogs that might be thought of as "less adoptable" because of the physical conditions in which they are found. We have recently been taking in more and more of these special
black
dogs, many times considered to be
golden
mixes, into our rescue. We see an overwhelming interest in these "
black
goldens
," getting requests about them the minute we publish their picture on our site! You never know… that "
black
golden
" you see on our website may be a mix of wonderful breeds such as the Labrador or Aussie or Flat Coated Retriever! Either way, like all of our dogs, these pups are just looking for a family to look past their coloring and see their true "
golden
heartedness," to love them and make them their own! You'll be glad that you did.