Fluff-a-Butts!
For some reason, one of our volunteers came up with that moniker for this trio of adorable fluffy pups! It makes us smile every time we say it - "Fluff-a-Butts!" Try it, we bet you'll smile too!
"Fluff-a-Butts!" "Fluff-a-Butts!" "Fluff-a-Butts!"
These cuter-than-cute pups were dropped off at a shelter in Louisiana by an individual who could not find homes for the pups. They came in filthy, but in otherwise good shape and at a nice weight. The girls are about 10-12 weeks old and weigh about 12 lbs. They will be ready for adoption in about 4 weeks, which brings us, as of this writing, to mid-May.
Please remember as you look at these adorable pictures - Puppies are a LOT of work in their first year! Puppies have small, immature bladders and cannot go a full work day without being let out. Puppies NEED obedience training, socialization, and manners training. Our rescue gets many unsocialized and poorly mannered dogs surrendered to us due to the simple lack of training in the early stages of a dog's life. If you are approved to adopt through SGRR, you are
home
most
of the
day
, and have an active life-style, and a
sense
of
humor
, contact
Donna
to be considered to adopt one of the Fluff-a-Butts. If not yet approved, please fill out an
application
to be considered.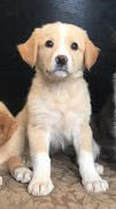 Jenny is the most out-going of all the pups and even made herself a young human friend as you can see in the photo below. She has a honey colored coat with contrasting white markings - we call her our milk and honey girl! She is just as cute as they come! Jenny would love to be part of a family and would fit in with most any situation, as long as she is by your side!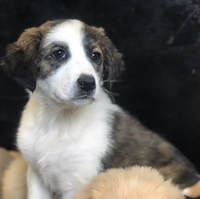 Adoption Pending!
Queenie is the pup we envision starring in a TV commercial for a pet product one day! She is simply stunning and has a magnificently colored coat of white and brown/black marbling.
Queenie has a confident personality and is incredibly affectionate. She loves other dogs, would enjoy playing with kids, and could be taught to respect cats. She is a typical puppy who loves to play, play, play! Queenie now has an adoption pending!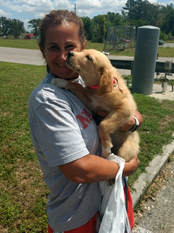 Happily Adopted!

Theresa has a creamy golden color coat with minimal white markings. She is cuddly, sweet, and extremely affectionate. Lucky Theresa has been adopted already to one of our wonderful prior adopters. She hopes you will consider giving one of her sisters a forever home.