Freeda - adoption pending!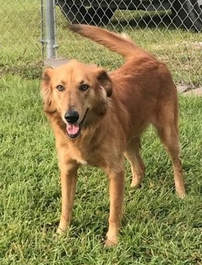 Freeda is another sweet dog who found her way to our rescue from St Landry's Parish in Louisiana. Until just a few years ago, more than 96 percent of the animals at the shelter were euthanized. Now, the shelter cooperates with many rescue groups throughout the nation to save the majority of pets who find their way to the shelter. Our rescue was so happy take her in and to be able to give Freeda her freedom!
Freeda found herself deep in Cajun country in very sad condition and terribly thin at only 45 lbs. It is estimated that she should weigh about 55 with her slender build. While we don't know much about Freeda's past, it is apparent she did not receive good care. She had not been spayed and she was not given heartworm preventative, and thus tested heartworm positive.
Freeda bears no grudges, though, and she impresses every person she meets with her sweetness. She is easy-going and loves all living creatures — grown-up people and kids, dogs, and even likes the cats at the vet's office. She has a moderate energy level and walks nicely on a leash. She is going to bring so much happiness to whoever opens their home and heart to this very deserving dog.
This lovely golden mix is estimated to be about 2 years old. Freeda is spayed, up-to-date on vaccinations, and micro-chipped. Upon completion of her heartworm treatment, she will be ready to travel north in late Oct to be directly adopted. If you are approved to adopt through SGRR, contact
Donna
. If not yet approved, please fill out an
application
to be considered.
Rescued dogs come with a range of needs - from behavioral to emotional to medical. When approved applicants adopt such dogs, they agree to take on whatever comes with the dog. It is up to YOU to continue the rehabilitation we have begun. This is what it means to rescue.