Gabriella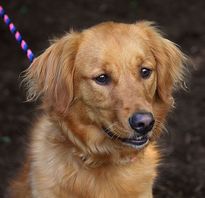 Two-year-old Gabriella is a beautiful, red, purebred Golden Retriever who had a rough beginning to her life. She came to us from a suspected abusive home, where her former owners were threatening to euthanize her due to behavioral matters. Rather than addressing the unwanted behaviors and working with a trainer, the former owners opted to heavily sedate her. As the doses of medication wore off, Gabby would emerge from a semi-comatose condition in a defensive state of mind, perpetuating her reactive behavior. Hearing of her plight, a Good Samaritan stepped in and Gabby was given sanctuary at our rescue. Gabriella has been with a skilled training group in CT where they have worked on behavioral correction. She has been off the sedative since she arrived there and her trainers report that her eyes are so much softer and more expressive. She has improved in leaps and bounds and we have seen a new Gabriella emerge!
About a month ago, Gabriella and a set of "golden rules" went home with approved applicants, but this match was not found to be compatible and Gabby is back with our rescue. Upon speaking with her lead trainer today, he remarked about what an absolutely wonderful and smart dog she is. As we spoke, she sat with her head resting on his thigh, soaking up his pets of affection. He shared that if he did not already have a pack of ten dogs, he would adopt her in a heartbeat and said he is in no rush to see her off until we find the exact right home for Gabriella. :-) He shared that his training staff call Gabriella his "24" because he gabs about her 24/7 and even takes her riding with him in his convertible.
If you are an
experienced dog person with strong pack leadership skills
, Gabriella just may be your next best buddy. It is our hope that we will have an adopter for this girl very soon who can take advantage of the extended training offered by PLRescue. Here, the potential pet parent can learn the training techniques used and will be able to start to bond with Gabby prior to going "home" and Gabs may get to go home for the weekends. A resident dog can even be brought along for a meet & greet. Whoever adopts this emerging butterfly is going to be gifted with a very best
24/7
friend! If you are approved to adopt through SGRR and have a physically fenced yard, contact
Donna
to be considered to adopt Gabby. If not yet approved, please fill out an
application
to be considered.