Gabriella - happily adopted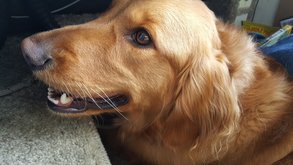 Gabriella is a beautiful, red, purebred Golden Retrieveer who has had a rough beginning to her life. Gabby, who is about 2 years old, came to us from a suspected abusive home, where her former owners were threatening to euthanize her due to aggression. Rather than addressing the unwanted behaviors and working with a trainer, the former owners opted to heavily sedate her with trazadone. As the doses of medication wore off, Gabby would emerge from a semi-comatose condition in a defensive state of mind, perpetuating her reactive behavior. Hearing of her plight, a Good Samaritan stepped in and Gabby was given sanctuary at our rescue.
Gabriella is now with a skilled training group in CT where they are working on behavioral correction. She has been taken off the sedative since she arrived there and her trainers report that her eyes are so much softer and more expressive. She has improved in leaps and bounds and we are seeing a new Gabriella emerge! She is so much more relaxed and open to affection. One of her trainers shared, "Gabriella is progressing very well. Gabriella has become my "24." (
The other trainers give a dog the nickname 24 (24/7) because they say it's the dog I speak about the most and hence tend to work with a bit more… I don't see it…LOL
) She has improved, mastered, or eliminated all the areas of concern - guarding, growling, leash walking, dog interactions, "squirrels are around so you have no shot of me listening" (
There must be a one word phrase for that..
.!), human socials, and lack of play interest. Her step commands have improved and her aloofness is decreasing daily. She is 100% off meds and we have not seen any issues to include allergies." Woooohooooo! What a great report card! How about some videos to show this girl's awesomeness!
~
Gabriella Being Silly!
~
Gabriella Guarding Behavior Improves!
If you are an
experienced dog owner with strong pack leadership skills
, Gabriella just may be your next best buddy. It is our hope that we will have an adopter for this girl very soon who can take advantage of the extended training offered by PLR. Gabriella's adopter will be able to visit the facility in East Hartford, CT once a week for 1 hour. Here, the potential pet parent can learn the training techniques used and will be able to start to bond with Gabby prior to going "home" and Gabs may get to go home for the weekends. A resident dog can even be brought along for a meet & greet. Whoever adopts this emerging butterfly is going to be gifted with a very best friend! If you are approved to adopt through SGRR and have a physically fenced yard, contact
Donna
to be considered to adopt Gabby. If not yet approved, please fill out an
application
to be considered.