George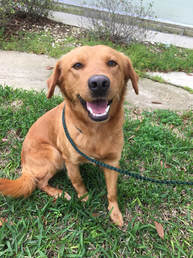 George is a handsome 1-2 year old boy who we believe to be a Golden/Lab mix. He somehow found himself in a scary situation at the Animal Control Center in Atmore, AL. He was at the shelter for 2 months - how depressing that must have been! The shelter director knew who had owned George previously and hoped they would come for him, but they never did. He believes there was an illness in the family and they were no longer able to care for George. That may have been George's lucky day though as our rescue will make sure George becomes a beloved companion and finds the right home.
George is good with other dogs and LOVES to play with them. He is a young dog with age-appropriate energy. His plush coat is the most stunning shade of golden and his eyes are a beautiful amber color. Trust us when we say his photos do not do justice to how gorgeous this fellow is in person!
George is a shy boy who does not have a lot of socialization. When we first brought George into the rescue, he was very leery about having a slip lead put around his neck for walks. It was as though he had no idea that a walk was a good thing. He is becoming more comfortable with the slip lead and taking walks now. George can be timid, especially when there is more than one person in the room with him or in his kennel. While only one human is around, he is more confident. We are seeking a quiet, adult-only home for George; a home where his humans will be patient with him and help him gain confidence. It breaks our hearts to think of the sad kind of life this boy must have lived but that life is behind him now. If you think that you could provide this type of home for George and you are approved to adopt through SGRR, we would be happy to consider you for his adoption! He has a reservation to come north on 3/24/18.
George
has
been brought up-to-date on his vaccinations, is neutered, heartworm negative, and is microchipped. He
will
be arriving to be directly adopted in the northeast on March 24th.
If you understand "rescue" and would like to be part of George's rescue story,
please contact Donna at
SunshineGoldens@gmail.com
if you are already approved to adopt. If you are not yet approved, visit our
website
to fill out an application.
Rescued dogs come with a range of needs - from behavioral to emotional to medical. When approved applicants adopt such dogs, they agree to take on whatever comes with the dog. It is up to YOU to continue the rehabilitation we have begun. This is what it means to rescue.