Goldie - adoption pending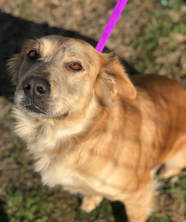 Goldie is a 2-3 year old Golden mix who was picked up as a stray in Mobile County, AL. She seems to have been someone's dog as she was in fairly decent shape when she came to our rescue; not terribly thin or shaggy-looking. Aside from some black pigmentation on her tail and her face, Goldie looks very much like a purebred Golden Retriever. She certainly has that classically sweet golden personality! Goldie walks fairly well on the leash but she does not like to do her business while leashed. Therefore, a physically fenced yard is on Goldie's wish-list. She is a gentle girl and takes treats gently. When she takes the treat from her human, she will put it to the side and wait her her friend to leave her before she eats the treat. She also does this when being fed her meals, but shows no signs of food aggression or possessiveness. We feel Goldie would do best in a home without a lot of comings and goings and with a steady routine.
When our tending vet tested Goldie for heartworms, the in-house test showed a negative result. However, a little voice inside Dr B's head told her to send the smear out for further analysis. It came back with a low positive result and Goldie is being treated for heartworms prior to traveling north for adoption.
Goldie has been brought up-to-date on her vaccinations, spayed, and microchipped. She will be ready to travel north to her forever family in late February to early March.
Contact
Donna
to be considered to adopt Goldie. If not yet approved, please fill out an
application
to be considered.