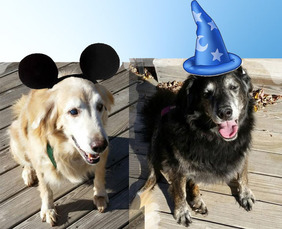 Sunshine Golden Retriever Rescue Helped By The Petfinder Foundation
Sunshine Golden Retriever Rescue is proud to announce that we are the recipients of a grant from the Petfinder Foundation. The Petfinder Foundation is a 501c3 non-profit organization dedicated to ending the euthanasia of adoptable pets. SGRR received this award from Petfinder's Emergency Medical Fund to provide much-needed costly eye surgery to relieve the pain Mickey, our
recently-rescued blind 8 year old had suffered. Thanks to this grant, Mickey is now living pain free in his forever home.
Happily Adopted!
They really are special dogs! So gentle and calm. Magic is so sweet and lovable and Mickey just this week showed me how much he trusted me to keep him safe on our walks. ~Glenn


Update 12/14/16: What a difference in Magic and Mickey!! After two weeks in their foster home, they are happy and confident. Mickey has healed up from his enucleation surgery and his skin and ear infections are gone. It took about a week for him to "map" the house and yard and barn. Magic has been a loyal brother and helped Mickey adjust, both boys getting along great with the resident Golden and Chihuahua. During the first week Mickey would bark if he felt alone or insecure, and Foster Glenn learned that a short whistle reassured him. The other dogs seem to know Mickey cannot see and they stay near him. Dogs are just amazing! Foster Glenn tells it best, "
They are so good! Mickey barks only to find out where I am to get his bearings. When Mickey sniffs his harness, he lifts his feet so I can put it on him! He loves to lay next to my chair and loves his chest and neck rubbed. As to getting around, he is getting more confident. He is still a bit skittish with the ramp to the deck and into the house. But from the ramp to the fields and back he is doing great. I guide him some but he gets better every day! After our walks we normally stop in the barn for a while. He has that part down pat. He knows when we are heading back and he will lead the way right to the barn door! He has also started giving kisses more, which I like! Magic is such a love! He gets so excited for attention whenever I come home. It doesn't matter if I am gone hours or minutes! He fires the others up and starts talking to me! He spends most of his outdoors time following Daisy, the Chihuahua. They are all getting along great and have full run of the house even when I'm working."
Background:
Magic and Mickey are very bonded brothers who were adopted from Sunshine as 4-month old pups. They came back to our rescue in late October at the age of 8 after their human Mom passed away. Their Dad had to sell their home, and Magic and Mickey could not go along. They are believed to be
Hovawarts
, which is an uncommon breed where the golden-colored dogs can look amazingly like Goldens. Sunshine's Magic is black, while Mickey is golden.
Magic and Mickey have known love and good care all of their lives. Several years ago Mickey lost his vision and surgery to restore his vision was unsuccessful. Magic became Mickey's "seeing eye dog" and he now guides Mickey! Although a bit overweight, they both have a nice moderate energy level and get very excited about going for walks. They played mostly in a fenced yard and had not had regular leash walks in the past. In their former home the boys carried on confidently and happily, with Mickey's blindness not hindering him because he was in familiar surroundings. They love people, lived with cats, and get along with other dogs. They are perfect car riders and sit quietly together for the ride. Our SGRR volunteer who drove them to the vet clinic told us,
"They are very sweet and loving. Mickey was on the go as he got out of the car. I would not have noticed that he is blind right away, as he wanted to explore and walk. Mickey definitely needs leash training, while Magic is better on leash. They are beautiful dogs with their thick wavy coats."
Magic and Mickey have been examined by our vet and it was discovered that Mickey had glaucoma. To relieve this painful eye condition, Mickey had a procedure called an
enucleation
, where the eyeballs of the dog are removed. In spite of how upsetting this may sound, it is a fairly conventional procedure that dogs adjust to very well. Mickey was no exception - there is such a difference in his demeanor! Freedom from pain has resulted in a wagging tail and hugs to his favorite vet tech at the animal hospital. Both of them love being petted and sit together without competing to take treats gently. Magic is like a teddy bear with a sweet face, and a thick, fluffy coat. Golden boy Mickey will be back to his handsome self with his golden waves once his fur grows in over his surgery site. Medicine to treat Mickey's skin and ear infections is also helping him feel so much better.
Like Disney characters wishing on a star, Magic and Mickey are wishing for a forever home with a quiet, consistent atmosphere. Many kind people have provided homes to blind dogs and say they are amazing in their ability to adjust, moving around easily when furnishings are left in the same place, listening for a familiar tap or whistle to locate their human, and "mapping" their home with the help of mats placed near their important things like a food bowl or door. Magic and Mickey also help each other, with sweet Magic willingly stepping aside for his brother.
When Magic and Mickey's wish comes true and they have a home in which to receive love and a consistent home routine, they will be just fine. They need a chance, and for that wish upon a star to come true. If they touch your heart, please ask about them. They would do best with a fenced yard and older children. These boys are a joy, and are longing to have their own humans again. If you are approved to adopt through SGRR, contact the
adoption committee
to be considered for Magic and Mickey. If not yet approved, please fill out an
application
to be considered.