Gumbo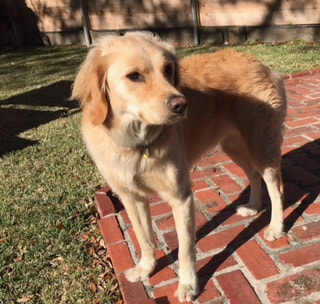 Gumbo is a sweet Golden mix of about 3 years of age. He has been a family's pet his whole life, but with 3 young children in the home, there is little time to give to Gumbo. His mom & dad felt he needed a better life than they could give him and contacted our rescue. Gumbo has been well cared for and has lived as an inside dog who enjoys playing in his fenced in back yard. He is house-broken and trust-worthy in the house. He family told us, "He does pretty well around other dogs and we have been to the dog parks nearby. He will play rough, though, if there is a dog of equal size/strength. We have boarded him plenty of times when we have gone out of town and we have always gotten good reports there. We do not know how he is around cats, as there has been no real exposure too them."
Gumbo loves it when his leash is put on him because he knows he is going for a walk. However, he needs to be taught to walk properly on the leash and not pull. The family used a harness for him, but he still gets a B-/C+ in leash skills. Gumbo is okay when when riding in a car, but he tries to squeeze into the front seat.
Gumbo is up-to-date on vaccinations, heartworm negative, previously neutered, and micro-chipped. He weighs in at about 80 lbs. He is smart, affectionate, and sweet as sugar! He will be ready to come north to his forever home in mid-December, just in time for the Holidays! Gumbo hopes he truly has something to be thankful for - his forever home! If you are approved to adopt through SGRR, contact
Donna
to be considered to adopt this incredible boy. If not yet approved, please fill out an
application
to be considered.
Rescued dogs come with a range of needs - from behavioral to emotional to medical. When approved applicants adopt such dogs, they agree to take on whatever comes with the dog. It is up to YOU to continue the rehabilitation we have begun. This is what it means to rescue.