Happy Tails - 2017

Bea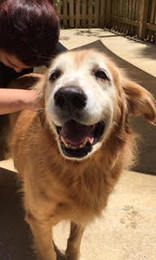 Happily Adopted!
Senior Bea is at home settling in with her new family in NY. Her new Mom called to say Bea is in LOVE with her new Daddy. She watches him constantly and follows him everywhere. Ron and Jo have rescued many senior Goldens over the years, and they are thrilled to have calm and easy-going Bea join their family!
Gabriella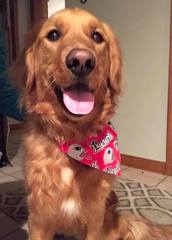 Happily Adopted!
Those of you who followed Gabby's story on Facebook, may remember that she was going to be brought to the vet by the former owners for euthanasia. She went through some behavioral re-training and she was adopted by two wonderfully intuitive adopters! We hope you enjoy her happily-ever-after tale!

I would say things are going great! We had a few walks through the day, mostly staying on our street. We're on a "parkway" so we have a nice, wide strip of grass running down the middle of the street. We actually did a bit of just sitting, enjoying the afternoon... smelling the air and rolling on our back!..and chewed a stick for a few minutes. The weather today has kept us inside a bit more so Sunday has been a pretty mellow day, as will the upcoming week I'm sure.

We had two different opportunities to meet neighbors. The first one, I panicked a bit thinking, "how did (trainer) Montana do this? Am I going to do it right?....." It went OK, she quieted down and all went well. The second time... about three minutes after the first... I was quite proud of myself! A quick "hut hut" and a couple light upward nudges with the leash and she was at my feet without a peep! There she sat until I was ready to walk again! I'm sure my neighbor thought I was nuts as I got pretty excited and exclaimed, "it worked"!! lolol...I'm learning that she likes to run a bit, twice we've had a quick jog back to the house, she almost skips! Just a bit ago we were out in the rain, she did her business, and we jogged back. If I didn't know any better I'd say she was just laughing and playing in the rain. We both were glad to be back in the house!

She continues to be more comfortable... as do we. We were able to get a sock away from her this morning, a tiny bit of work but no growling! We've left her alone a couple of times, both for just a short period. Nothing was eaten! Nothing was disturbed! I'd call that a success! It's not been quite 36 hours yet. If we're on any kind of time frame comparing how things went last week I'd say tomorrow would be a test if there was going to be one. I'm not anticipating one. I think all of us are feeling very different with each other this time around!
~Rob & Bill

Selina

Happily Adopted!Things with

Selina

are going great! She's a fantastic dog and we feel so lucky to have her. Everyone who has met her comments on how beautiful she is.

Selina

loves attention and wants be pet constantly. She is very well behaved, although she has yet to be around other dogs in the week that we've had her. We brought her to the vet

on Thursday

and everything was good on that front. Once again thank you for all your help.

~Rich & Brenda

Gaston


Happily Adopted!
He is a very laid-back and he is so affectionate. Loves belly rubs and he follows me everywhere. He enjoys a daily walk and with his harness; he walks right by Brian's side.
~Marion & Brian

Buddy

Happily Adopted!
We welcomed Buddy from Alabama to his new home yesterday. He's a sweetheart and settling in beautifully. Been on a couple good walks; played catch twice; helped me repair the irrigation system for the garden; has begun eating; and seems to have caught up with his travel thirst. Slept at the foot of the bed all night; is such a gentle and loving dog; and is well trained and behaved. PERFECT!! Both of us adore him! Thanks so much to everyone at Sunshine Golden Retriever Rescue! ~Mike & Carol



Floyd


Happily Adopted!

Just got back from Floyd's vet appointment.

He is 69 pounds and is very healthy. They were quite pleased that he received all the vaccinations that he did receive before transport.

Floyd is sleeping well at night and is responding very well when he meets new people, especially my kids and grandkids.

He knows where the food is and who to follow. He and Tucker are getting along well. He has the daily routines figured out and we had a long walk at the park yesterday. All the new sights and smells...he was a happy boy! The hand-off went very smoothly: Kudos to PETS for doing such a good job. Thanks to Tate, it was reassuring to have a SGRR volunteer there.

~David & Carol
Zsa Zsa


Happily Adopted!Honey (fka Zsa Zsa) has been great!! She's the biggest sweetheart! She's currently lying on her new bed in the family room, chewing on her new favorite bone! She's so funny too. She walks around the house with the bone in her mouth - haha! She constantly wags her tail and goes up to everyone asking for affection. She's the sweetest little baby. We all fell in love with her and so did everyone at the vet! We took her to the vet today and she's good overall. She has arthritis but we started her on joint supplements today. She's going to get a nice bath

tomorrow

! We already spoiled her and got her new harnesses, leashes, collars, bandanas so she's ready for spring/summer! We found out that she LOVES to be in the car!

~Gail R

Bella



Adopted in South!Breed:

Golden mix

Color:

Golden

Age:

6 years

Size:

Medium 40-60 lbs

Sex:

Female
Charlie Brown

Happily Adopted!
Things are going great. He is settling in quite well. He rides in the car like a dream. He is eating fine - definitely loves his food! He's been great in the house - stays close to us and follows us from room to room. We have a gate up so he only has access to the first floor at this point. The rest of the house will come later once we are all comfortable. So far our only "disagreement" was that he thought he should be allowed on the couch and I didn't agree! But after a couple of corrections, he stopped trying to get up on it. Otherwise, he's been playing with his toys and seems quite comfortable here. We love him! He has just the kind of spirit that we expected!
~Dori, Keith, & Dylan


Sandy


Happily Adopted!Sandy is doing amazingly well! She did great on the car ride home. Snuggled and licked me the whole way. With the lovely weather she's been out in the yard a lot and met a few neighbors. Tail wagging and friendly and increasingly playful. She is very aware of other dogs and gave a tiny growl to one but responded to correction and distraction. Her appetite is getting better with each meal.

I'm just loving giving this sweet girl all my attention.

I'm so happy! Thank you, thank you, thank you!

~Carol & Tim
Kasia


Happily Adopted!
Kasia is a great dog. She has some bad skin that we got medication for and a possible double ear infection. She doesn't seem too bothered with it and we got the best medication for her. She is always so happy and we could not be happier!
~Ryan & Petra



LucyLu


Happily Adopted!
She's settling well. We went on a few long walks today so she could explore the neighborhood. I took her to Petco to sign up for obedience class as well. She's also a big smuggler! She's fallen asleep with her head in my lap a few times. She's definitely a keeper! She seems to be getting more comfortable each day. Went to the vet today and she was such a good girl!
~Caroline P


Lena

Happily Adopted!

Lena is doing better every day. She is moving better and eating better. I added a quarter cup of the new food with her sensitive stomach food and she ate it without a problem.

She is starting to get more adventurous on her walks and we have to try to keep her calm. Landscape steps are a piece of cake for her now.

She seems to be very happy and comfortable. Her new owners are extremely happy and love her very much. It seems like a great match up. I'd like to thank the entire SGRR group, who have made this whole process very easy.

~Greg & Kyna

Jesse

Happily Adopted!He slept all night, ate well last night and this AM. He had one altercation with Goldi but is fine with Cody and Sam, the cat. Hangs with me pretty much. Gonna go for a walk

tonight

but has been exploring the backyard. Loves treats & kisses!
~Susan
Dantea



Happily Adopted!
Just wanted to let you know that Dantea is doing very well. She's not thrilled with all the snow that we got, but Joe used the snowblower to make paths throughout our back yard so we can walk her around without her getting buried!! It's amazing to me how well she is adjusting and for a young dog she has good house manners. She must have been someone's pet and she's so sweet that I can't understand why they didn't look for her! She's a smart girl though and she's already learning.
~Susan & Joe



Molly


Happily Adopted!
Molly is doing great. We don't think Molly had seen snow before. During her first walk, she was hesitant to step on the snow. By her fourth walk, Molly stretched out and rolled around, trying to make snow angels. Otis, our 9 year old Sunshine Golden, welcomed Molly with a wagging tail. As I write this, our 2 Sunshine dogs are stretched out sleeping. Thank you for bringing both of these wonderful dogs into our lives. ~Valerie & Jeff

Marge

Happily Adopted!
SHE HAS ARRIVED! A HUGE THANK YOU to everyone for making this dream come true. The cold temps and the howling wind did not deter our excitement as we waited for her to come down the ramp! Dawn was a great support and we appreciate her help getting Marge off the truck and into our lives! Marge is having fun exploring our home, ate and drank well, and is in a very chipper mood! Our cats have spied Marge, but are keeping their distance, of course! One step at a time. Our hearts are so full of Love.
THANK YOU, Sunshine Rescue!
~Liz & James


Shelley

Happily Adopted!
Had a good first night. She is adorable. She slept in the sunroom (which appears to be her safe space) but found me at 5:30 to go to the bathroom. I am going to give her a little bath today, hopefully being clean will make her more comfortable. I have a well reviewed oatmeal shampoo at the ready! She's a sweetie and I'm very happy. I'll keep you posted. ~Shannon
Murphy


Happily Adopted!
Murphy is doing great! Yes, you were right, he is a very very good dog and we are extremely thankful! He walked in the house and immediately made himself at home. It was a long trip but he is finally in his forever home. You can definitely let everyone know he has found his forever home, he's not going anywhere! ~Tim & Sharon


Ebenezer



Happily Adopted!
He is awesome!!! A huge love. Busy when we're busy quiet when we're quiet.
He's a great guy. Loves the snow.
~Marianne, Richard, & family


Avery
Happily Adopted!
She is adjusting beautifully into our home. After the first 24 hours, she has relaxed, is far less needy in terms of constant human contact and slept through the night on her bed on the floor in our room. She is very loving and gentle.
~Julie & Dan


Potter


Happily Adopted!

He is such a good boy. He sleeps all night. I think he is happy.

Working on the training now.

~Judy & Keith
Myia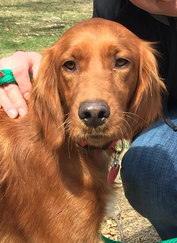 Happily Adopted!
She is just wonderful! Such a lady in the house and so full of joy running in the back yard. She loves the backyard! She is one of the sweetest dogs that I have ever met. I think she must have had some leash training at some point. This morning, most of her walk was walking next to me on a loose leash. I just gently reminded her of how to walk. I say gently because she is so sensitive and responsive to quiet requests.

I am amazed at how quickly she has adjusted to a new setting and made herself comfortable. She sleeps on her back a lot! She follows me all over the house, sits with me on the sofa, and sleeps with me at night. She loves to be touched. I just love her and want to thank Sunshine for bringing us together. ~Taimi




Nikki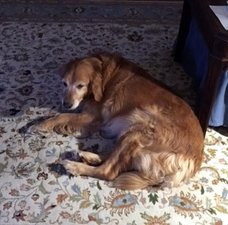 Happily Adopted!
Nikki is settling in...likes her bed and loves getting lots of pats. She likes going around the yard and we have done some walks around the neighborhood. She definitely enjoys meeting people and other dogs, which is great. We thinks she is just so funny and sweet. We are smitten!!
~Martha & Dave
Feb 7, 2017
There is sad news about our senior Golden

Nikki

, who was just adopted on February 5.

Nikki

lost her appetite and became lethargic within days of arriving at her home. An ultrasound revealed cancer in several organs including her spleen and liver.

Nikki

's quality of life was declining quickly and

Nikki

crossed the Bridge on Feb. 7th. Heartbreaking... Her family waited two months for

Nikki

to complete her heartworm treatment, before she could be adopted.

Nikki

was fortunate to have known a loving home but she deserved longer.

Sweet

Nikki

is gone to be with all the other good dogs. We took her to the vet's late this afternoon to say goodbye. Thanks to all the SGRR rescue folks who helped

Nikki

get to us. We so looked forward to her coming, were so happy to pick her up in CT and bring her home. Although her time with us was so short, we loved her as the good girl she was. What a sweet, sweet dog… ~Martha & Dave
McGee


Happily Adopted!McGee is doing great! He seems to be getting along well with the whole gang. We are taking him to our vet

Thursday

afternoon for a checkup. I think this is going to be a good fit for us all. Thank you for allowing McGee into our home! :)

~Lisa & Ron

Stacey


Happily Adopted!
I don't think I've ever seen an animal adapt and settle in the way this pup has. She's been through so much in such a short time and still doesn't have a fear in the world. She definitely likes to be around people and get her lovin'. Got another one hiding up your sleeve? And the little lady's name is now Lexi and she is at her forever home. ~Pattie

Murphy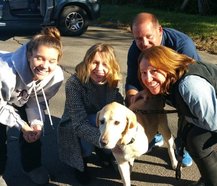 Happily Adopted!
Senior Murphy has been adopted by his foster family, the Fedors! Murphy joins his Golden brother, Cooper, and 2 human sisters, along with his parents. Murphy, who has heart damage from heartworms, received a good report at his cardiologist appointment this past weekend and is doing well with his current medicines. That and being a tripod do not stop Murphy from being a "Marley" kind of Yellow Lab! This boy loves life and has no hesitation about being mischievous and fun. He bounds up stairs, loves water, and other dogs. He is not above counter surfing, especially if coconut cake is involved. His family adores him!