Happy Tails - 2018
Hunny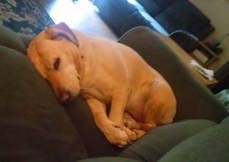 Happily Adopted!
We fell in love. She is happy today but still has a bit of nerves so we are
being very low key and giving her love. She has spent a lot of time checking
out the house and now she knows which bed is hers. She finally tinkled
outside 2 times and although we have never let our dogs on the couch I
just can't stop her. The most important thing is for her to relax and be happy.
She passed out next to me on the couch. It will take time for her to adjust but
she is such a good girl I know everything will work out. Ellie is adjusting too
and with Hunny's winning personality she will love her too. Hunny looks like
a mini Ellie. I'm so happy she's here. She is a delight. Thank you so much.
And thank you to (foster) Glenn - He is a very nice

man

.
~ Ame & Bob
Bear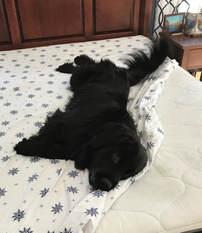 Happily Adopted!
​ Bear is doing great - he's settling in well. He's done well on his walks.
He does pull a little but isn't terrible with it and doesn't get startled
as much as I thought he would. He's very excited here and we're just
as excited to have him. He's been snuggling with us since he got here.
We're taking him to the vet Friday for his wellness check up too.
Thank you so much for assisting us with the adoption process.
~ Alexander & Anna


Joseph

Happily Adopted in AL!

Joseph was named
for the late father
of one of our core volunteers. He was
adopted by a previous adopter in AL.



Poppie


Happily Adopted! She got here today! Her new name is Peggy Sue.She's very sweet. Starting to settle in and relax.

Poppie

found her spot last night. We are so happy.Thanks to you, her fosters, and everyone at SGRR.
~ Mitch & Marie

​
Goldie

Happily Adopted!
She's arrived safe and sound at her new home. She's made herself quite
at home already. I think he's adjusting well, almost as if she's always
been here. We've been keeping her activity minimal but you can tell she's
wanting to start to play and run around. She's been resting and napping
​a lot but when she's awake she is alert, curious and interested in what's
going on around her. She's such a sweetie, a real delight! ~Kate & Tim


Morty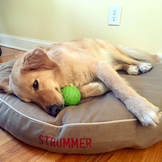 Happily Adopted!
​ He's a doll. So far so good. He slept on his bed and he seems content.
​ Not so sure about the snow but getting there. Several walks yesterday and
today plus the trip up. I think he's a bit tired and happy to rest. ​
​ Morty is now called Strummer. ~ Ava & James






Marley

​ Happily Adopted! This is our beautiful Maya (fka Marley). We are already in love with her. She
​ is so sweet, gentle and well-behaved. She didn't like stairs but within a few days she was going
​ up and down like a
​ pro. And for an
​ Alabama girl, she
loves the snow!
​
Thank you SGRR for finding her for us. We are so lucky
​ to have her in our family! ~ Karen & Peter



Molly


Happily Adopted!
Omg, she is tiny, soooo cute. She has diarrhea and cries a little bit. ​She is also not shy around her brother- omg, lol! He is a big lump of love, wanting as much attention as her! We are very happy with our 4 legged family! Thank you to you, Mary Ellen who met

​ us at drop off, and all the wonderful SGRR volunteers
​ for all you do! ​~ Annie, Ben, Beahr and Molly
Dixie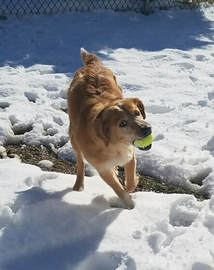 ​ Happily Adopted!
Immediately, we felt a connection to Dixie as soon as we saw her pictures
and read her bio. In person, she is everything we could have wished
for and even more. Her homecoming has gone so well, especially introducing
Dixie to her sister Mandi and even her feline sister, Nala. Mandi and Dixie
act as if they were always meant to be sisters. Within hours of arriving to
New Jersey, Dixie experienced her first snow! At first she was a little confused
at the cold stuff falling from the sky, but the next morning she loved playing
in it. Dixie is one of the sweetest and loving pups. She is extremely smart
and eager to please. We have found she loves squeaky toys and balls but
her favorite thing is to be right by our side getting loved! And that's exactly
​ where we want her! We love her so much and are so happy that you choose
us to be Dixie's people!
Thank you!
~Dawn & Family
Chip

Happily Adopted!
It was love at first sight. What a sweet, adorable dog!!! Chip is doing very well!
His disposition is about as sweet as it can be. He is calm and well behaved and
loving. No problem with our cats - he is curious and he got one small scratch on
the nose and since then, all is well! He had a couple of pee accidents in the
​ house yesterday which is no surprise because I am sure he was confused, but
​ none today. He loves getting his coat and leash on to go outside, but the walks
​ are very short because it is so cold.

Cheryl says he is a Velcro dog and indeed, he follows us everywhere. Today he
​ had a little time with Alan and I both gone and he cried a little bit but my father
​ gave him a dog biscuit and then he curled up on his bed in the living room and
​ they both (he on his bed and my father on the couch) slept for the afternoon :)
Thank you so much for choosing us for Chip, we all love him! ~Jennifer and Alan
Tallulah


Happily Adopted!
​A good day so far. She slept well last night in the crate. She has not
minded the rain and has enjoyed exploring the yard in between Kongs
and crate naps. We are starting an obedience class on 2/7. Everything
went well today at the vet's and the vet thinks that she is about 9

months old and is a Nova Scotia Duck Tolling Retriever mix. She is a little scrawny but the vet expects her to fill out as we give her more food and exercise. She
​ continues to be a very good little girl! All is well!
~ Michelle and Anthony

Bandit


Happily Adopted!
The artist formerly known as Bandit, now Leo, has settled in and we are loving ​ him!
He is great! A few accidents in the house, but nothing unexpected. He
​absolutely loves to take long walks. However, so far not much of a fan of doing his business while on walks. We'll get

​ there. Thank you for all of your help!
​ ~Scott and Lisa





Bentley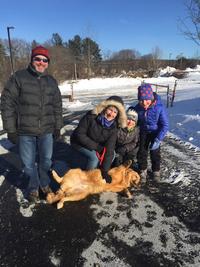 Happily Adopted!
We're doing great! Bentley is settling in really nicely! He is definitely a puppy/teenager who was never taught not to mouth and jump up but we're working on it and the jumping has already lessened. Generally, if the kids are playing with him and he is excited, he will play bite. But if we are all quiet and just chilled out and not moving around a lot he settles down, too. Our situation right now is perfect: the kids are old enough to respond appropriately when Bentley play bites or jumps (they turn around and ignore him or walk away) and I have time to work with him during the day.

My daughter wants me to tell you that "we're falling in love with him!" Bentley is eager to please us, follows us around the house, and loves ear scratches and belly rubs! He really is a wonderful dog who just needed some positive attention and structure/boundaries. Thank you, for all that you and your fellow volunteers do to fill our lives with amazing dogs! I have been very impressed with the professionalism of all of the SGRR communications and the thoroughness with which you look after your dogs and us adopters! We are blessed to have Bentley in our lives! ~Amy, Patrick, & family
Scout

Happily Adopted!
​I love him to bits already!!! Scout is so nice. Taking meds and supplements for arthritis but loves the snow and hops up and down- no exuberant behavior yet but I can tell he likes it. Lots of dog kisses for me and Bill and friendly to
everyone. Still likes his spot in the kitchen and

loves chew toys. He doesn't mind the cat or the pig
​ in the barn. Sweetest dog ever!!! ~ Ellen and Bill


Gordy


Happily Adopted!
Just wanted to let you know that Mac (aka Gordy) is doing well! He napped the whole way home in the car with his head on my daughter's lap. He has been investigating the house and is loving his Nylabone. So far so good. He has gone out to the yard a few times with my husband and relieved himself each time. Good start! He is the sweetest boy ever! Thanks again for your help! ~Karen & Peter


Alice


Happily Adopted!
Alice is sitting right next to me on the couch, and doing so well. She does talk a lot — woo woo woo!! I didn't sleep very well worrying about her, but she slept soundly the whole night! She follows me everywhere from room to room, and when I took her in the car with me to do an errand she rode so nicely. Her fosters Mary and Chris were just wonderful. Please keep in touch, and thank you all for everything. ~Jan



Andy





Happily Adopted in AL!