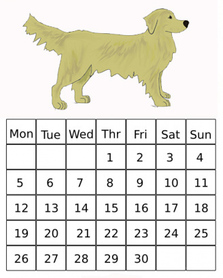 We are currently taking orders for the 2017 Calendar! Who could resist 12 months' worth of pictures of adorable pups to greet you each day! Calendars are $20 per calendar, and due to our very generous donors, ALL proceeds go towards helping save more dogs!
To order your calendar, go to our
Paypal page
and click on the "donate" button under "make a single payment." Please make sure t
hat you note in the comments section on the payment page of PayPal that you are ordering a calendar and the number of calendars you are ordering. Then, indicate the amount that you are paying in the payment box. You will then get a receipt from PayPal via email. Once you receive your email receipt from PayPal, please forward the entire receipt to: sgrrcalendar@gmail.com. Your order will be sent to the address on your PayPal account unless otherwise noted (please make sure your address is on the receipt).
If you'd like to pay by check, please email
sgrrcalendar@gmail.com
for details.
It's as simple as that! Please help us with this important fund raising project.... the Goldens are counting on us. YOU can make a difference.
Quantities are limited, so don't wait to place your order! Thank you for your support!
Ticks and Dogs
Allie's Story:
Allie (originally named Brenda) came into our rescue from a southern shelter in February 2010. Almost immediately upon entry, this big purebred girl captured the heart of her wonderful forever family. Although she's blind in her left eye, she's perfect in every other way. Believed to be the result of a cataract, the left eye has no vision at all, but her ability to navigate the world is not impaired whatsoever. Estimated to be 2 years old at that time, she was one healthy, happy and beautiful girl! Allie was adopted by Bill & Anna and it was love at first sight. Anna immediately reported back to us, "She is wonderful and is already at home here in Maine! She loves eating snow! As I am writing this, Allie has made her spot in the middle of the living room carpet so she can keep her eye on both us. She seems quite content, and so are we!" Now, Allie goes to work nearly every day at the family's store in Maine and her loss of vision has not impaired her in any way. She has many friends and fans at the store, both human and canine, goes on many adventures, and she even has her own Facebook page!





Fall Activities to do With Your Dog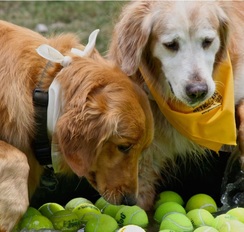 Fall in the Northeast is one of the best times of the year. The local, state and national parks are at their best, with beautiful fall foliage at every turn, and the weather is perfect – warm during the day and cool at night. So to make it through the cold days of winter, here are some fun things to do with your dog this fall prior to it getting so cold you never want to leave your house again!
Pumpkin Picking - Many pumpkin patches allow well-behaved, leashed dogs to accompany their parents on pumpkin picking excursions. Sometimes hay rides and corn maze fun are offered as part of the outing, so call ahead to find out if your favorite location welcomes dogs to the grounds. Remember to clean up after your dog, bring plenty of fresh, cool water, and make sure flea and tick protection is in effect.
Canine Costume Contests - Start looking now for online and in-person Halloween costume contests. Most importantly, dogs should be comfortable and safe in whatever costume you choose.
Camping - If the great outdoors is your thing, consider a fireside getaway with your dog. Fall is one of the best times to go camping!
Hiking - Make sure your dog is fit enough. Just as a couch potato human shouldn't set out on a challenging hike without training for it, neither should a semi-active or overweight dog. Hiking is a lot more strenuous than walking. Short training hikes can be fun too. Check with the local park service to make sure that dogs are permitted on the trails. You can even use the Woodtrax app when out hiking to track your mileage and support SGRR!

Agility Course & Dog Parks - Many communities are offering dog parks and agility courses, which are like great big playgrounds for dogs. At an agility course, your dog can try out ramps, hurdles, bridges and other obstacles designed to challenge both the mind and the body. You'll love to watch your dog try new things, and your dog will relish the challenge and thrill of stepping outside a normal exercise routine of walking and running. Dog parks can be great places for socializing as well — and not just for dogs!


You can even turn the most mundane and routine chores into fun if you include your dog. Picking up fallen branches and sticks can be turned into a game. For a really fun game, try tossing a ball

into a pile of leaves!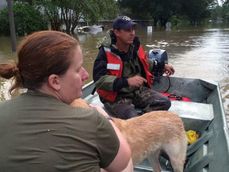 Click to read about us!

Read about the dogs rescued from the severe flooding in Louisiana who are in need of forever homes.

Some tales do have happy endings. Skye, a Golden Retriever, was reunited with her owners Wednesday after spending two days in a 14-foot sinkhole at The Arboretum at Penn State.
During Monday night's snowstorm, Megan Holmes took what was supposed to be a routine walk through The Arboretum with Skye, a neighbor and their dog. The dogs were let off leash, and Skye seemed to have vanished "We understand we were in the wrong to let her off leash," Ron Holmes said. "She's so good about staying close, and all of a sudden she was gone."
The family began to look for Skye and learned Tuesday there are occasionally sinkholes filled in at The Arboretum. Ron Holmes found one near where Skye went missing Tuesday night. "I got as close as I could, yelled down and couldn't hear anything because of the gushing water," he said. "I thought that could explain how she disappeared."
They returned Wednesday morning. The gushing water had stopped and Skye's bark greeted them when they called for her. "Oh, it's the most fantastic feeling hearing her," Ron Holmes said. "I was so sick last night thinking she was gone. I thought she would have drowned if she was somewhere down there or suffered hypothermia."
Skye, given some help by Alpha Fire Company and Penn State police, was rescued. Centre Region Council of Governments Fire Director Steve Bair said campus police brought large mats to stabilize the area. The sinkhole was about 18 inches in diameter and dropped into what was about a " Volkswagen buggy-sized hole," according to Bair. Firefighters opened the hole to about 30 inches in diameter and settled on an innovative approach to rescue Skye. "On the fly we constructed a harness for the dog," Bair, who is an admitted dog person, said. He said Skye "was a very nice dog ... (and) was in good shape, which was helpful for the rescue. (She) kind of sensed what was happening and was very cooperative." Alpha Fire Company Assistant Chief of Training and Operations Dennis Harris climbed down the sinkhole with a ladder and hooked up Skye to harness to be lifted.
The family took Skye to the veterinarian after they were reunited. "She's doing fine, and the vet said she's in good shape," Ron Holmes said. "I really appreciate efforts of the Alpha Fire Company and campus police. There's a good thing that comes out of it, I think. That sinkhole got located, and they'll fill it so no one will fall down it."
SGRR's note -
We bet their dog will never be off-leash in an unsecured area ever again. No matter how well trained, NO dog can be considered 100% reliable off-leash – especially a rescue dog whose background is unknown. Many of SGRR's dogs have come to our rescue as strays, and we know how easily this happens without a leash or fenced yard. As a result, we require that all dogs adopted from SGRR be on a leash at all times except in a securely fenced area. There are alternative ways to give your dog some freedom, while still keeping him/her safe. Attach a 50' long line to your dog and he/she can still go swimming in that lake or pond while you hold the other end to keep them from getting into trouble or swimming out of sight. You can try a leash that attaches around your waist for "hands free" strolling or jogging with your dog.
You do not want to find out the hard way that your adopted dog is terrified of some unexpected loud noise or suddenly remembers how much fun it is to chase a passing critter. When applicants adopt from SGRR, their signature on our contract indicates that they will abide by our leashing policy, and that they understand if they do not, SGRR has the right to reclaim the dog. We are absolutely passionate about safety. No exceptions.
Above Article by
Shawn Annarelli
- sannarelli@centredaily.com
Darkness arrives earlier now, and letting our dogs outside very early in the morning or in the dark means that checking for wildlife is important! Our dogs can surprise skunks and porcupines who are going about their business in corners of our property. Porcupines and skunks are primarily nocturnal animals that unleash nasty surprises on unsuspecting dogs and their humans. A skunk's spray is mostly annoying, although may have health effects at close range. Porcupines, on the other hand, have a much more serious weapon - quills. Dealing with a dog that has been skunked or quilled is not something any of us wish for!!!

DOG VS PORCUPINE
While they can be found anywhere on the body, porcupine quills are commonly found embedded in the muzzle, face, head, and neck of dogs. The big trouble is, the quills keep moving inward. Your veterinarian is best equipped to remove painful quills. Removing quills under anesthesia reduces traumatic removal and quill breakage, and allows for more thorough examination.
If Your Dog Gets Quilled
Minimize movement - quills embedded in the chest and legs may migrate in further.
Call your veterinarian - most often quills are removed in-office under anesthesia and the dog is home the same day. For severe cases, x-rays, ultrasound and surgery may be required to find internally embedded quills.
DOG VS SKUNK RECIPE

Here is a recipe for washing your dog after a skunk spray that has been around for a while and works very well:

Mix in a Gallon container:
4 Tablespoons of Baking Soda
1 Quart Hydrogen Peroxide
1/2 Cup Dawn Liquid Detergent (MUST be Dawn regular detergent)

Mix together, and wash affected area of doggie, keeping out of dog's eyes. Repeat after a few minutes. Rinse well.

~Note - Cannot be mixed in advance and stored.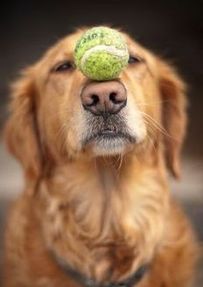 A dog's exercise needs remain consistent year-round. Lack of exercise can cause various issues, including hyperactive greetings, chewing on valuable items, raiding the garbage, and increased anxiety and aggression. If a dog is predisposed to aggression, the increased anxiety from lack of exercise can exacerbate the problem. Like people, dogs get cabin fever of sorts and go stir crazy when kept inside. But when the weather is uninviting, it's easy to slack on your dog's regular exercise routine.
Experiment With Inside Games
- Vary the games you play and regularly rotate toys to keep your dog interested. Tug can be an excellent game for teaching self-control when played with the proper rules. Fetch can be done inside using soft toys. Increase the fetch challenge by tossing the toy up stairs with carpeting or runners to prevent slipping. For dogs that like to chase, attach a stuffed animal to the end of a rope to simulate a predatory chase. More rambunctious or large dogs can be exercised safely in open areas, such as a basement or garage with the car pulled out.
Encourage Scavenging
- Dogs are scavengers by nature, meaning they are programmed to spend many of their waking hours in search of food. Use this to your advantage by getting your dog hunting for his meals with a few inventive practices. Instead of a food bowl, feed your dog kibble out of a food puzzle (a hollow toy with openings for kibble to fall out). For a long-lasting challenge, stuff a hollow toy, like a
Kong
, with canned dog food and freeze. Exercise your dog by tossing a treat piece by piece across the room and telling him to "find it," so he can chase after it and hunt it out with his nose.
Quality Time
- Rather than cooping up your dog all winter, take him on outings with you during the week. A date with your canine can be as easy as taking him to a dog-friendly pet store to choose a chew or toy. Pooch-friendly coffee shops welcome dogs with treats. Give the treat to your canine while he is secured in the backseat of your car with a seat-belt or inside a crate. Drop by your veterinary office for a social visit and have the receptionist give your dog a cookie. Arrange a visit to a friend's front door for a treat, or invite friends to your home to interact with your dog. Consider having a dog walker come exercise your pooch if you can't safely do it yourself. Most dogs can comfortably be walked outside for short periods when the right precautions are made, such as wiping paws off after walks.
Play Dates
- Dog-friendly canines benefit from play dates. Consider arranging play dates with your dog's favorite friends, which can be done right in your backyard or at pet-friendly parks. Even when the weather outside is frightful, dog park loyalists are still braving the cold. Dog parks can give your dog both off-leash exercise and interaction with other canines. Doggy day cares are another way to give your dog interaction while you're away from home or when you just need a break.
Indoor Agility Course
- Never underestimate the power of the homemade agility course. Create obstacles for your dog to navigate, much like he would on an agility course. Use chairs as weave poles for your dog to navigate around. Line other chairs up and toss a blanket over the top to create a makeshift tunnel for your dog to run under. A broomstick fixed over a couple of buckets or a hula hoop held in your hands can serve as a jump. Teach your dog to propel through obstacles using a
hand target
, and reward with plenty of praise and treats. Take short breaks between obstacles to do obedience work, such as
puppy push-ups
. The obedience work will keep your dog listening to you and give him a mini workout. As an added bonus, hand targeting allows for additional exercise by getting your dog moving between people for a reward.
Keep your dog appropriately entertained this winter even when daily walks aren't possible with at least two of the above interactive activities per day, along with several socialization opportunities throughout the week. Fear not, spring is only 2 months away!
*Credits to Vetstreet.com
An anonymous poet wrote: "If you can start the day without caffeine; if you can get going without pep pills; if you can always be cheerful, ignoring aches and pains; if you can resist complaining and boring people with your troubles; if you can eat the same food every day and be grateful for it; if you can understand when your loved ones are too busy to give you any time; if you can forgive a friend's lack of consideration; if you can overlook it when those you love take it out on you, when, through no fault of your own, something goes wrong; if you can take criticism and blame without resentment; if you can ignore a friend's limited education and never correct him; if you can resist treating a rich friend better than a poor friend; if you can face the world without lies and deceit; if you can conquer tension without medical help; if you can relax without liquor; if you can sleep without the aid of drugs; if you can honestly say that deep in your heart you have no prejudice against creed or color, religion or politics; then, my friend, you're almost as good as your dog."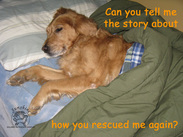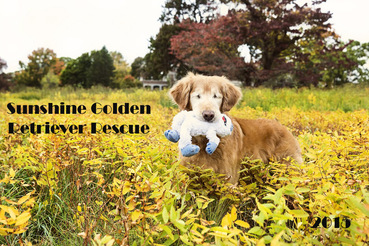 We are now accepting entries for the 2016 SGRR calendar – and YOUR dog could not only be featured in the calendar, but on the cover!


The entry fee is $25. Submit 2 pictures per entry fee, and one of them is assured to be included in the calendar. (Your entry fee also includes one calendar.) Send us your best, highest resolution shots (please no blurry photos, or low resolution cell phone pictures) of your furkids - and get creative – we love to see seasonal shots, holiday shots, action shots, etc.


If you would like your pup to be considered for the cover, please submit a few short paragraphs on why (no more than 500 words). The SGRR Calendar Committee will review all of the entries and choose one to be featured as our Cover Dog and corresponding inside cover story.


The "fine print": The Cover Dog position only goes to a SGRR rescue dog, so please indicate in your email submission whether or not your dog/dogs you submit are SGRR rescues. Any dog can be featured inside the calendar regardless of being an SGRR dog or not. Please make sure you include your name and your dog(s)'s name(s) in your email – if there are multiple dogs in a picture, please try and be as specific as you can be. Photos should only contain dogs – no humans, please. We will email you a confirmation when we receive your photos, so if you don't get a confirmation please follow up - we want to make sure that everyone's submissions make it into the calendar!
Please use the Paypal link on the bottom of this page to pay for your entries (make sure you note that the donation is for the calendar). Email your entries (don't forget to include a few paragraphs about your dog if you would like him/her to be considered for the cover) along with your Paypal receipt to
sgrrcalendar@gmail.com
.
The deadline for submissions is

October 31, 2015

.
Thank you, as always, for your past and continued support. We could not do what we do without our amazing group of volunteers, fosters and adoptive families.
Here it is! SGRR's new transport van!
Thank you so much to those of you who have donated to our van fund and made this dream a reality! Last week's arrivals were the first dogs to ride in the van. We hope you will take a look at Karlee, Meredith, and Raleigh as they ready for their journey with driver Tommy in
this video
. It brings tears of joy to our eyes when we think of the incredible generosity of our "Sunshine family!"
If you have not donated or would like to do so again, you can donate through the PayPal link at the bottom of this page. We will be keeping any additional donations in a separate account dedicated to van maintenance, repairs, insurance, etc.
Donations can be made through Paypal at the bottom of this page or by mail with a check to: SGRR, PO Box 247, Port Washington, NY 11050. Please note that the donation is for our van fund. As always, your contribution is fully tax deductible.
Again, our sincerest thanks for making this dream come true!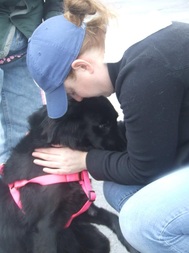 Little did I know how much my life would change the day we picked up our Tanner from SGRR. I mean, everyone's life changes when you decide to adopt a pet - you make the conscious decision to add another level of responsibility to your life. But this particular pet was different for me. She helped shed light on a side of me that had been in the dark for a long time - compassion, empathy, patience, selflessness...all things that had been receding for many many years and were just finally starting to peak back through the cracks. Those of us in rescue always say that our dogs rescue us as much as we rescue them. They help us become better people. Well, that is certainly the case with you, Miss Tanner Belle! ~J Dixon

Since the early 2000's, animal rescue workers have noticed an increasing phenomena called "Black Dog Syndrome," which is that black dogs tend to be adopted slower than dogs of other coloring. As a result, there are more black dogs in shelters, and black dogs have a higher euthanasia rate – purely because of the color of their coat! You may ask, what does this have to do with a Golden Retriever rescue? SGRR often goes a step further than basic rescue, taking in dogs that might be thought of as "less adoptable." We have recently been taking in more and more of these special black dogs, many times considered to be golden mixes. We see an overwhelming interest in these "black goldens," getting requests about them the minute we publish their picture on our site!

Here are some of the black dogs adopted through SGRR. Like all of our dogs, these pups are just looking for a family to look past their coloring and see their true "golden heartedness," to love them, and make them their own! You'll be glad that you did.


Our Black Dog Alumni