On Memorial Day, Americans will visit war memorials across the country. This ritual helps us connect to the brave members of the military who defended our freedom. There is one memorial, however, that is quite unique, because the fallen veterans it honors had four legs - the

U.S. War Dog Memorial in Holmdel, New Jersey

.

When you learn about the countless acts of selfless courage and total loyalty that "dogs of war" have displayed in battles around the world, it seems very fitting that there is at least one official memorial.

Be sure to remember valiant men and women, and the canine war heroes who gallantly served our country throughout the decades, around the world. To learn more about these amazing four-legged soldiers, visit the

U.S. War Dogs Association website
---
A Note To Our Approved Applicants

Applicants often ask how long it will take to adopt a dog. Sunshine, like many other rescue groups in the country, is currently in the enviable position of having many more terrific families and individuals approved and waiting to adopt a rescue dog than we have dogs. We wish that each of you could bring a rescue dog into your life as soon as you are approved to adopt. Knowing that is not possible, we ask for your patience and understanding as you await your dog. Our volunteers spend many, many hours evaluating our dogs and working on the right match to help ensure each dog finds a happy and forever home. For some of you, there will be a very short wait for a dog, while others will wait longer than hoped. This is simply a matter of getting the right match and does not reflect negatively on anyone. We are fortunate to have so many kind and giving people waiting to welcome home a dog in need. Thank you for your trust in Sunshine. We are hoping your wait will not be a long one!
---
SGRR Tote

Just in time for summer, SGRR has created a beautiful, durable tote bag embellished with our logo. Perfectly-sized, [13.25"(W) x 15.75"(H) x 3.5"(D)], this tote will hold all of the essentials. Made of 100% cotton garment-washed canvas, this tote is being offered in a choice of 6 lovely colors. The last day of the sale will be
June 5th
so don't wait to place your order. The estimated date of delivery of the totes is
June 21st
. To place your order, go to
https://www.booster.com/sunshine-golden-retriever-rescue
.
As always, thank you for supporting Sunshine Golden Retriever Rescue!
---
SGRR's Featured Dog - Oscar

| | |
| --- | --- |
| | This handsome boy has a personality that everyone is looking for in a dog; he is happy, smart, loving, obedient, and he could not be a better dog! Oscar is a 2-year-old Retriever mix who may just have a little Flat Coated Retriever in his family tree! He is kind-hearted, jovial, and he just rolls with the flow of whatever you are doing! A walk in the park, a hike in the woods, a stroll along the beach - YUP! - They are all among Oscar's favorite things to do! You can read more about stunning Oscar on his bio page! |
Unfortunately, since the early 2000's, animal rescue workers have noticed an increasing phenomena called "Black Dog Syndrome," which is that black dogs tend to be adopted slower than dogs of other coloring. As a result, there are more black dogs in shelters, and they have a higher euthanasia rate – purely because of the color of their coat! In a recent survey done by the adoption website "Petfinder," Petfinder member shelters and rescue groups reported that most pets are listed for 12.5 weeks on Petfinder, whereas, less-adoptable pets (such as black, senior, and special needs pets) spend almost four times as long on Petfinder.

You may ask, "What does this have to do with a Golden Retriever rescue?" SGRR often goes a step further than basic rescue, taking in dogs that might be thought of as "less adoptable" because of the physical conditions in which they are found. We have recently been taking in more and more of these special black dogs, many times considered to be golden mixes, into our rescue. We see an overwhelming interest in these "black goldens," getting requests about them the minute we publish their picture on our site! You never know… that "black golden" you see on our website may be a mix of wonderful breeds such as the Labrador or Aussie or Flat Coated Retriever! Either way, like all of our dogs, these pups are just looking for a family to look past their coloring and see their true "golden heartedness," to love them and make them their own! You'll be glad that you did.

---
---
Brownie Troop 425 ROCKS!

SGRR is so grateful to Brownie Troop 425 from Port Washington, NY who donated $100 from their cookie sales to help our SGRR dogs. We met at a local dog park where the girls and 8 SGRR Alumni got to spend some time together! The girls were walking around our dogs like they were little ponies at a petting zoo and the dogs sensed the need to be gentle with these young ladies! It was such a great day all around!

---
Ticks and Dogs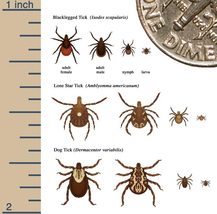 The Blacklegged Tick, also called Deer Tick, is abundant throughout many areas of the Northeastern US. They can carry organisms that cause Lyme Disease, Babesiosis, and Anaplasmosis, all of which are on the increase.
Nymph Stage Deer Ticks
Are active from early May through early August
Are about the size of a poppy seed
Have a bite that is difficult to feel
Pose the highest risk of transmitting a tick-borne disease, due to their small size. (About 1 in 4 nymph stage Deer Ticks can cause Lyme Disease.)
Adult Stage Deer Ticks
Are active from September through May
Are about the size of a sesame seed (About 1 in 2 adult stage Deer Ticks can cause Lyme Disease)
TICK FACTS:
Ticks can be active even in winter, when temperatures are above freezing.
Tick habitat is in shady, damp, brushy, wooded areas including shrubs and gardens.
Nymph stage ticks are found mostly at ground level in the leaf litter.
Adult stage ticks can be found up to a couple of feet off the ground on vegetation.
TICK BITE PREVENTION:
Do a tick check after coming inside and tumble-dry clothes for 20 minutes.
Wearing light-colored clothing makes it easier to see ticks.
Products containing DEET may be used on skin.
Products containing Permethrin may be used on clothing and shoes, NOT skin.
TICK REMOVAL: REMOVE TICK IMMEDIATELY AND CORRECTLY
Using pointy tweezers, grasp tick by the head and pull straight up. Avoid twisting.
After removing tick, apply antiseptic to bite area.
Note date when tick was removed.
Tick can be saved for identification and possible pathogen testing at
www.TickReport.com
Resources:
Centers for Disease Control: www.cdc.gov
University of Rhode Island:
www.tickencounter.org
Laboratory of Medical Zoology:
www.tickdiseases.org
MA Department of Public Health:
www.mass.gov/dph
Cape Cod Cooperative Extension:
www.capecodextension.org
Barnstable County Department of Health and Environment:
www.barnstablecountyhealth.org
---
---
Shaving Your Dog's Coat - Should You or Shouldn't You...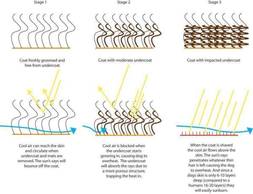 There are several different types of textures on dog's fur, but in a general breakdown there are two coat types; single coated and double coated. A single coat means that there is only a top (or over) coat that grows all over the body with no different undercoat. Breeds such as Shih Tzus, Poodles, Bichons, for example, are ones with a single coat. These breeds can be shaven generally with the only thing potentially occurring to the coat is over time it may become softer or it may have a slight colour change. Even with only a single coat you want to be careful on when you shave them, especially if you shave them right down, as this, although may appear to feel cooler, leaves the dog exposed to the possibility of sunburn. A dog with a coat shaved right down in the height of summer should not spend any length of time in direct sunlight. With the simple fact that there is only one coat the hair grows back normally and even after a shaving.

A double coat means there is both a top (or over) coat made of tougher guard hairs and a bottom or (under) coat that is thick and soft. Breeds such as Pomeranians, Shetland Sheepdogs, Siberian Huskies, Samoyeds, are examples of double coated dogs. With a double coated dog they need to be groomed by brushing throughout the year but most heavily done in the spring when a major shedding period occurs. As the weather warms up the thick undercoat starts to do a complete shed, it detaches from the body and is often described as molting. When you look at a dog in shed, they have "tufts" of fur that is soft and dense peaking through the longer guard hairs of the topcoat, this is called molting.

All this dense undercoat needs to be brushed out of the dog or Stage 3 from the top image above occurs. The coat becomes impacted and matted, preventing air from being able to move between the dog's topcoat and their skin. Once all this undercoat is removed the air can circulate between and through the hairs of the topcoat keeping the dog cool, while the topcoat keeps the skin protected from the sun. This topcoat can also protect the dog's skin from fly and mosquito bites.
---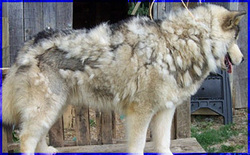 The question still remains then, why not shave them and just keep them out of the sun? For one, they may not actually be cool even if they are out of the sun, the topcoat can help to keep the heat off the skin itself and unlike people dogs do not sweat through their skin. Dogs sweat by panting and in all but northern breeds, through the pads of the feet. Shaving them actually removes some of their natural ability to stay cool. Another reason is that when the hair does begin to grow back it tends to do strange things. For some, it may mean having patches that don't grow at all, or that don't grow both types of coat layers (top and under), older dogs often have issues with proper regrowth and then for others (which happens most often) the undercoat grows in faster than the topcoat (since the topcoat isn't meant to shed extensively it grows extremely slowly) so now that protective topcoat is matted into the undercoat. Dogs like this generally appear as though they have thyroid issues. The hair looks fuzzy and varies in length all over the body. This doesn't mean the coat will forever stay this way. Most of the time with regular brushing and the next shed cycle the topcoat will get longer while the undercoat sheds away, eventually leaving the coat the way it once was with long topcoat guard hairs and a thick shorter undercoat. One other thing to note about those topcoat guard hairs – they actually prevent the dog from getting wet. Due to the coarseness of the guard hairs water rolls off of this topcoat keeping the undercoat dry, which in the winter is important to keeping the dog warm and dry.
All of this being said there may be times where it is necessary to shave a double coated dog. In surgical/medical situations the coat must be shaved or if the undercoat has become so matted it can not be combed out, shaving is the only solution. Once the coat begins to grow in, keeping them brushed and free of matting will prevent the need to shave them in the future.
Bottom line?
The ideal situation: Keep the hair brushed, remove all the undercoat and allow the dog to remain with their natural ability to keep themselves cool and protected from the sun and some bug bites in the summer and warm and dry in the winter.
Article written by:

Jennifer Oldfield

(albertnorthvetclinic.com)
---
---
Support SGRR While You Shop
iGive


Click to shop at iGive

Turn Your Online Shopping & Searching
Into Donations For
Sunshine Golden Retriever Rescue


Shop at 1,000+ Top-Notch Online Stores. The iGive mall includes: Amazon.com, Pottery Barn, REI, Staples, Petco, Expedia, Best Buy, QVC and many more. Best of all, up to 26% of your purchase at each store is donated to SGRR when you sign up with the provided link.


---

Amazon Smile
---
Donate to SGRR

There are a number of ways to donate to SGRR. You can make a donation to our general fund or designate a specific use for your donation. Visit our

Support page

for more details about supporting SGRR.

Sponsor a Dog

If you would like to provide for the care of a particular dog's needs, you may sponsor that dog. Please use the Paypal "single donation option" at the bottom of this page or mail a check to: SGRR, PO Box 247 Port Washington, NY 11050. We will then note you as a sponsor on the dog's dedicated bio page.

We thank you in advance for your generous support!

---
---