Jenkins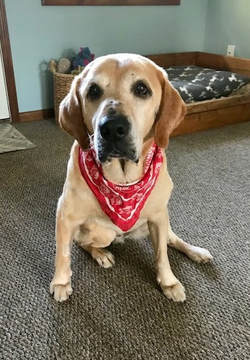 Update 11/6/17: Jenkins has had quite a time of it. He spent several days at a vet clinic getting treated for ear infections, skin irritation, bloodwork, heartworm testing and vaccinations, plus neutering. A tumor on his flank which was found to be a mast cell cancer was removed at the time of his neuter surgery. Jenkins stayed in a loving foster home to recover from his surgery while we waited for pathology results. And we are thrilled to say the results showed the tumor was not an aggressive type, there were clean margins, and
Jenkins is cleared for adoption!!
He continues to recover from skin irritation and ear infections and will be getting his sutures removed within a few days. This good boy is ready to meet a forever family. Through all his treatment and changes in his life, he has shown us he is sweet as can be. Jenkins loves to sniff while out on walks, and he gets along great with the two resident dogs in his foster home. He has learned that a dog bed is a great place to sleep, takes his medicine with no problem, and follows his humans around the house. He wasn't quite sure what dog toys are for, but he is learning, and he also loves to help with stick clean-up! While it appears he has not had an easy life, Jenkins is ready for all the good things that are ahead for him.
Jenkin's Story:
Jenkins cannot stop smiling since being rescued and getting the attention and care he desperately needed. He was found in CT under a bush, emaciated and unable to stand. The local animal control officer needed the help of police to carry him to a van and a nearby vet. There he remained for three weeks, gaining strength and putting on much-needed weight. Ready for a rescue group to help him, Sunshine stepped in to find him a home.
Jenkins is
estimated to be 9-10 years old and currently weighs 70 lbs. He adores people and thinks everyone must know him! He also loves dogs and even got along great with the office cat. Jenkins walks nicely on a leash, without pulling, and rides quietly in a car. He has a nice energy level, although his back end is a bit weak. This may be from a complete lack of exercise, suspected due to the callouses on his elbow and leg from staying in one spot. If so, regular walks and a joint supplement will help him get stronger.
Stay tuned as we wait for Jenkins to complete his vetting and evaluation. It is going to be a great experience to give Jenkins his forever home! He appreciates every kindness he is shown and it will warm your heart to see this sweet boy blossom. If you would like to be part of Jenkins' rescue story,
please contact the
adoption committee
to be considered. If not yet approved, please fill out an
application
to be considered.
Rescued dogs come with a range of needs - from behavioral to emotional to medical. When approved applicants adopt such dogs, they agree to continue the rehabilitation we have begun.