J E T - adoption pending!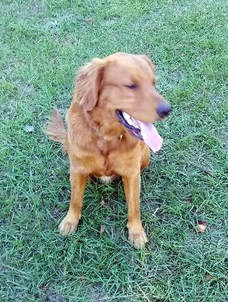 JET is a handsome two-year-old red-headed boy who was the victim of divorce. When the divorce took place, Dad bought his daughter a car, while Mom bought her daughter a Golden Retriever puppy. The daughter loved her pup, but both teenagers and puppies grow up. When the daughter went off to college, Jet was left at home. And when the house was sold off, Jet was left behind in the backyard. A kind neighbor fed him and gave Jet water, but being left alone in the yard, he would frequently escape and go wandering off, seeking human companionship. One of the other neighbors threatened to shoot the dog and the Good Samaritan knew Jet truly needed rescuing and reached out for help.
Tommy, our driver, went to pick Jet up from the yard and told us, "
He came to me in the yard before I got out of the van. I petted him and then put the leash on him - as easy as pie! He is a beautiful red boy who is very friendly and apparently loves to be around people!
"
"
Jet is one of the most stunningly handsome dogs I have ever seen,
" said Lisa, our lead volunteer in Alabama. He has a beautiful deep red coat that is wavy and as soft as silk. He has a handsome blocky head, with that classic Golden look. He looks like his face belongs on the box of dog biscuits. Jet loves to retrieve and will fetch a ball as long as you will throw the ball to him, bringing it back and dropping it nearby. He thinks he's a big old lap dog and likes to sit right on his humans. He especially likes it when you hold his paw and pet him.
Not much training came Jet's way in his former life, but that's okay - that life is behind him now. From here on out, it's the good life for this fine fellow who is so eager to please and to simply belong. Jet is up-to-date on vaccinations, heartworm negative, neutered, and mirco-chipped. He weighs in at about 72 lbs, and could probably carry a few more pounds on his frame without being overweight. He will be ready to come north to his forever home in mid-November, just in time for TURKEY, and now has an adoption pending! If you are approved to adopt through SGRR, contact
Donna
to be considered to adopt one of our other wonderful dogs. If not yet approved, please fill out an
application
to be considered.
Rescued dogs come with a range of needs - from behavioral to emotional to medical. When approved applicants adopt such dogs, they agree to take on whatever comes with the dog. It is up to YOU to continue the rehabilitation we have begun. This is what it means to rescue.