Jonah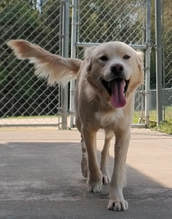 This adorable Golden mix was seen roaming at large in Mississippi since November. With an exceptionally cold winter in the south this year, it is a wonder this boy survived! It must have been that plush coat of his that kept him warm... A good Samaritan had been feeding him and she was finally able to corral him just last week. She put a plea on Facebook for a rescue to help and we were honored to become part of Jonah's rescue story.
Jonah is fine with other dogs, but no history with cats or children that we are aware of. His advocate took a little video of Jonah and a friend's Jack Russel Terrier. You can view the video below and see how graciously Jonah tolerates the pesky Jack Russel. Everyone who meets Jonah remarks that he has the nicest temperament. He's a little shy at first, and then that waggily tail gets going and his inner happiness comes out!
Jonah is heartworm negative and is thought to be around 3 years old.
Jonah has
been brought up-to-date on his vaccinations, is neutered, and is microchipped. He
will
be arriving to be directly adopted in the northeast on April 21st.
If you understand "rescue" and would like to be considered to adopt Jonah,
please contact Donna at
SunshineGoldens@gmail.com
if you are already approved to adopt. If you are not yet approved, visit our
website
to fill out an application.
Rescued dogs come with a range of needs - from behavioral to emotional to medical. When approved applicants adopt such dogs, they agree to take on whatever comes with the dog. It is up to YOU to continue the rehabilitation we have begun. This is what it means to rescue.