Kady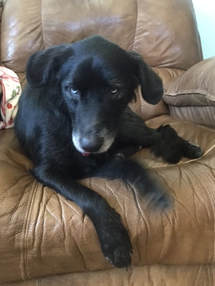 UPDATE

10/1/17

:
Friendly, sweet Kady is doing so well in a foster home in CT.
Her long black fur is growing in quickly now and she looks prettier every day.
She is very affectionate and her fosters say it is like she has always been there. She loves people and other dogs equally, and follows her humans and the two resident dogs around the house. Lady gives kisses, and will gently lift her paw to you, asking to be petted. She will also raise her paw for a treat. Hard to resist this charming dog!!
She knows commands "Sit," Stay" and "Shake," and she will sit and wait politely for cookies or her dinner. Her favorite resting spot is on a blanket on the floor. She will get on the couch, but only if invited. She barks an alert if someone comes to the door and quiets as soon as she is asked.
Her Foster Mom and Dad say Kady is the most friendly and easygoing of all their foster dogs. She has a moderate energy level. Kady plays nicely outside or with her tuggie toys, and then settles down easily inside.
Kady absolutely loves the fenced back yard and prances in the yard showing off her cute floppy ears:
Kady in Yard sep17
Her fosters discovered that Kady dislikes being leash walked with a flat collar and tries hard to back out of it. However, with an Easy Walker harness, she is a different dog and walks politely at an easy pace without pulling. You can watch her getting used to her harness in this video:
Kady Walking
It is Kady's wish to have a yard for play time in her forever home. She can be happy with other dogs or as an only dog, with children or with adults only. As long as she has people nearby, she is a happy girl.
Kady is waiting patiently for someone to see that, although her coat is black rather than gold, she is a golden-hearted, blue-eyed treasure.
Kady's Story:
"Hi, my name is Kady with a "d" and I am a black lab mix. I was brought to a shelter in AL.
I am 7 years old and weigh 41 lbs, although I need to gain weight until I reach about 50 lbs.
I am so embarrassed about my appearance! I've lost much of my long black coat because of a skin issue, even around my eyes. Ugh! I'm taking medicine and the people caring for me say my fur will all grow back before long. I can't wait.
The staff at the vet clinic can tell that I had a family once. I am friendly and affectionate with everyone. I am not timid, nor do I behave as if I have been abused, and they say I am just the sweetest girl ever! I know a few commands, and I am spayed and heartworm negative. Now I am also up to date on all my shots and taking my medicine every day to help my skin.
Please ask for me, Kady, if you would like to be my special person or family. I promise you will not be sorry you gave me a chance, and I will love you so much.
"
If you would like to be part of Kady's rescue story, please contact the
adoption committee
to be considered. If not yet approved, please fill out an
application
to be considered.
Rescued dogs come with a range of needs - from behavioral to emotional to medical. When approved applicants adopt such dogs, they agree to continue the rehabilitation we have begun.