Tips on Keeping Your Dog...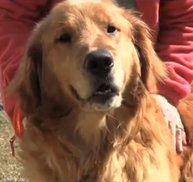 There are many reasons that people feel the need to give up their pets. What may seem an impossible situation might be resolved without sacrificing the companionship of your Golden. The links in this section offer information and alternatives to assist in resolving many kinds of problems faced by owners. If you can find a solution to the problem that works for both you and your pet, that's one less animal that needs to be rescued!
We encourage you to pursue every avenue before making that final decision. If everything you try fails, and the problem cannot be resolved, then please complete our
intake form
and a representative will contact you.
The links below also provide a wealth of helpful hints and training tips for those who are not necessarily looking to re-home their dog, but are seeking advice on common pet problems.