Kennedy - adoption pending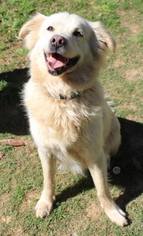 Sweet Kennedy was found roaming around in Elmore County, AL. Try as they might, the local shelter could not find his owners - so this little
cherub
is now in need of a loving home. Kennedy is a Golden mix and is guesstimated to be between 1-2 years old. He weighs about 50 pounds and has a beautiful, fluffy, champagne-colored coat. He has a personality that sparkles and shines and he has a smile that lights up a room!
Kennedy is very friendly to all of the humans he meets and loves other dogs too. He has no known history with cats though. Kennedy is a vocal fellow and will let you know if he wants to go outside or if he wants a cookie. He takes treats very gently and is an all 'round nice boy! When he goes out to the play yard at the vet's office, Kennedy looks all around, as though he is looking for his previous humans. Once he settles into his new home, this bundle of fluffy will bond very nicely with his adopters. Kennedy gets a "B" on his leash walking, something his adopter can continue to work on with him. He has been neutered, brought up-to-date on vaccinations, is heartworm negative and micro-chipped. He will be traveling north to be directly adopted on 5/27/17. If you are approved to adopt through SGRR, please contact Donna at
SunshineGoldens@gmail.com
to be considered to adopt Kennedy. If you are not yet approved, visit our
website
to fill out an application!