Lady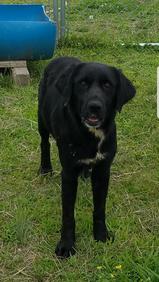 Through no fault of her own, this three-year-old black beauty found herself in a scary place - a high kill shelter in St Landry's Parish, in Louisiana, along with her three 5-month-old puppies (taken in by another rescue). Being
black
in coloring, the color least adopted, Lady's life was in danger. We will never know where this gentle girl spent the first years of her life, but it is apparent that she was once someone's pet and we can't help but wonder…
When Lady was lost, where was her family and why was there no one frantically searching for their beloved pal?
She is the most loving girl you will ever meet, and the most wonderful thing about Lady is her heart and spirit.
Lady has had her spa day and is feeling oh-so-pretty! She charms everyone she meets! Lady will sit for a treat, she shakes hands, and rolls over for a belly rub. She has a great temperament and has never met a stranger. Lady will greet you with a look that seems to say "Hi, I'm Lady – SO nice to meet you!" This is a young girl, with an energy level appropriate for a dog her age. She will need an adopter who can provide her with adequate exercise, activities, and companionship. In return, Lady will give you her unconditional love, 24/7, 365!
Lady is good with other dogs, would enjoy playing with older children, but has no known history with cats. She has been brought up-to-date on vaccinations, microchipped, is spayed and is now undergoing heartworm treatment. If you have it in your heart to give a gorgeous girl a loving and forever home, please consider Lady. She will be ready to travel north in mid-June to be adopted. If you are approved to adopt through SGRR, contact
Donna
to be considered to adopt this lovely lady. If not yet approved, please fill out an
application
to be considered.
Unfortunately, since the early 2000's, animal rescue workers have noticed an increasing phenomena called "
Black
Dog Syndrome," which is that
black
dogs tend to be adopted slower than dogs of other coloring. As a result, there are more
black
dogs in shelters, and they have a higher euthanasia rate – purely because of the color of their coat! In a recent survey done by the adoption website "
Petfinder
,"
Petfinder
member shelters and rescue groups reported that most pets are listed for 12.5 weeks on
Petfinder
, whereas, less-adoptable pets (such as
black
, senior, and special needs pets) spend almost four times as long on
Petfinder
.
You may ask, "What does this have to do with a
Golden
Retriever rescue?" SGRR often goes a step further than basic rescue, taking in dogs that might be thought of as "less adoptable" because of the physical conditions in which they are found. We have recently been taking in more and more of these special
black
dogs, many times considered to be
golden
mixes, into our rescue. We see an overwhelming interest in these "
black
goldens
," getting requests about them the minute we publish their picture on our site! You never know… that "
black
golden
" you see on our website may be a mix of wonderful breeds such as the Labrador or Aussie or Flat Coated Retriever! Either way, like all of our dogs, these pups are just looking for a family to look past their coloring and see their true "
golden
heartedness," to love them and make them their own! You'll be glad that you did.