Leia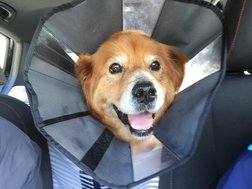 Update 5/9/17: Leia is doing so well! Her surgery is now behind her. The cyst on her leg and her mammary tumors have been removed, she was spayed, and had her teeth checked. All reports are good. Leia visited her foster grandparents over the weekend, where she loves playing in the backyard. She loves the car ride to her foster grandparents as well. Leia has wonderful house manners.
She is a good girl on a leash and does not pull. She has shown she does not care for other dogs to approach too closely. Thus, SGRR hopes to help Leia feel more comfortable near other dogs and will be using a trainer.
While her fosters would love to adopt her, they know that city life can be stressful and that Leia will be happiest in a quieter home with her own yard and a quiet neighborhood for walks.
Background:
Leia is a sweet 43-lb. treasure, estimated to be 8-9 years old. We believe Leia to be a Golden mixed with everything nice. She was brought to the Bridgeport, CT, animal shelter as a stray and remained there for several weeks when dog adoptions are less active. Leia began to exhibit signs of kennel stress, yet she became attached to one of the Animal Control officers who posted a plea on Leia's behalf. When SGRR learned of Leia's plight we knew she deserved a chance at a good home. Leia is now in a Sunshine foster home. In less than a week her anxieties from kennel life have quickly fallen away as she relaxes. We are learning what a smart and good girl she is.
It is obvious that Leia was someone's beloved dog. She knows commands
sit, stay
, and
come
. She walks well on a leash and is well mannered in the house. Her foster mom reports, "Leia is a joy. She has had no accidents in the house. When we left her alone for a couple hours, we returned to find her sleeping on her bed, which she loves. She gets excited when she sees her dinner bowl and does loop-de-loops! We ask her to sit, which she does, and then she eats her food slowly. She also takes treats gently. Leia loves affection and has started to lean in to us when she is petted and rolls over for belly rubs. She has a nice energy level and loves going out for walks, usually 2-3 miles each day."
Leia greets people in a friendly way and enjoys attention from anyone she meets. On the drive to her foster home she gave our volunteer driver kisses at every stop light! She likes her dog-walker friend, Danny, and loves her foster dad, who calls her "The Red Panda!" She visits her fosters' parents and had a great outing, enjoying their fenced yard and meeting new people. It was a great day for Leia, and you can see from her pictures what a happy dog she is. Take a look at Leia's beautiful coat, which is shiny, full and gorgeous.
We were told by the Animal Shelter that Leia is not friendly toward other dogs. We have been cautious about Leia's interaction with dogs. When she sees other dogs while out on her walks, she barks and wags her tail, but becomes less friendly if they approach. We feel that Leia will be happiest as an only dog in her home. She has shown us she is so happy and good having her people to herself and we believe she deserves to be someone's special dog.
Leia is vaccinated, microchipped, and has had a senior wellness checkup. She does not require any medications and has no mobility problems. Leia will have surgery to remove some small mammary gland tumors as well as a small cyst on her leg that is benign, and she will be spayed. Leia is living in NYC and would be happy to meet you!
Please contact the
adoption committee
to be considered for Leia. If not yet approved, please fill out an
application
to be considered.