Magee - adoption pending!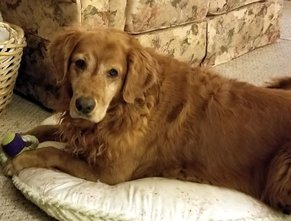 Introducing handsome Magee! He is a 9-year old, 95 lb., dark-red purebred Golden who sadly lost his home when both his elderly parents had to move to assisted living and Magee could not go along. He was brought to the local shelter in Kennebunk, ME. He was given good care there and was a favorite at the shelter, but poor Magee was anxious in a kennel environment. Magee is now with one of SGRR's kindest fosters where he is settling down and getting ready for his forever home.
Magee has a Golden personality through and through! He is very affectionate, loving to be spoken to and petted, and he has the Golden Lean down to perfection, leaning right against you when petted. He rode well in the car from Maine to CT and enjoyed sleeping on a dog bed. Magee loves people and gets along with other dogs, although he doesn't care to play much and can seem a little overwhelmed at times. He lived with cats in his former home and so does just fine with cats! He knows the commands sit, down, paw, and stay. If there is something that interests him, he may pull on a leash but he responds very well when told no or called by name to redirect him
.
Magee also has his quirks and can be a bit of a grumpy old man at times. He does not like to be yanked by his collar, nor does he like to have anything taken out of his mouth. (Who does!) That is easily solved by a trade with something better, like a cookie, but for this reason we feel an adult-only home is best for him. If he doesn't like something he will let you know with a little growl, and the staff at the shelter had no problems with him at all. The worst thing in Magee's life is a trip to the vet. This requires muzzling and it is sad that he must have had a bad experience in the past. But those are his worst quirks and in every other way Magee is a big love of a Golden who will bring smiles and love to your home.
Magee has a thick, pretty red coat and a full Golden tail. He is neutered, house trained, up to date on all his vaccinations, and heartworm negative. This sweet gentleman is in CT and ready to meet you!
Please contact the
adoption committee
to be considered for Magee. If not yet approved, please fill out an
application
to be considered.