Margie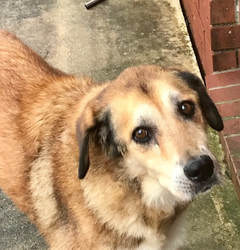 Introducing Margie, a sweet and gentle senior girl who ended up in a sad shelter in LA. A Golden mix, estimated to be 8-9 years old, she appears to have been neglected for quite a while but her fortunes have changed now that she is with our rescue.
Upon intake Margie was extremely thin, had parasites, a large growth on a front paw, and a dew claw that needed to be removed, along with a poor coat and teeth. She is currently staying with our Southern foster, Cheryl, who specializes in helping our neediest dogs begin their recoveries. Margie is putting on weight with the help of Cheryl's peanut butter sandwiches and TLC. The best news is that the growth on Margie's paw is a benign growth, which will be removed. Before long Margie will be ready for her forever home and she will be able to travel north just after Thanksgiving.
Margie is quickly relaxing and getting comfortable, with a happy wagging tail. She has very nice house manners, is house trained, and is an easy dog to have near you. She loves being near her humans. In fact, the first night in foster care she barked when left alone, but this has stopped as she settles into her routine and realizes she has not been left. Margie walks nicely on a leash and has a moderate to low energy level. She is just discovering creatures comforts like a dog bed, and enjoys cuddling. This gentle dog deserves to be loved and spoiled for the rest of her life. We are still learning about her but if you are looking for a sweet, laid-back companion, ask about Margie!
Please contact the
adoption committee
to be considered for Margie. If not yet approved, please fill out an
application
to be considered.
Rescued dogs come with a range of needs - from behavioral to emotional to medical. When approved applicants adopt such dogs, they agree to continue the rehabilitation we have begun.