Marley - adoption pending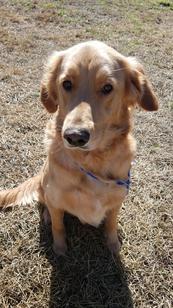 Along with her son, Bandit, sweet Marley was turned into a shelter in Monroe County, AL. Neither of the dogs had been given much direction in their lives (and probably not much food) and the owner's boyfriend got tired of the dogs digging in the trash. Marley is estimated to be about 3-4 years old and weighs about 55 lbs. She is super sweet and is described as a "jewel" by Lisa, our lead volunteer in the South.
Marley is gentle when taking treats, does not jump up for attention, and enjoys a good belly rub! She is good with other dogs but has no history with cats. She walks fairly well on the leash and is an overall lovely dog. With some refinement, she will become a wonderful companion.
Marley has been brought up-to-date on her vaccinations, spayed, and microchipped. She is now under treatment for heartworms and will be ready to travel north to her forever family on 2/17/18.
Contact
Donna
to be considered to adopt Marley. If not yet approved, please fill out an
application
to be considered.
Rescued dogs come with a range of needs - from behavioral to emotional to medical. When approved applicants adopt such dogs, they agree to continue the rehabilitation we have begun.