Mary Jane - adoption pending!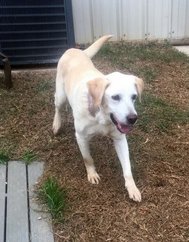 Update

5/3/17

: Mary Jane 's neck injury is all forgotten by this sweet girl as she has recovered and her fur is growing in nicely. She went on a car ride with our volunteer yesterday. She jumped right in and rode like a princess, settling down and eventually falling asleep, relaxed in the back. Mary Jane is very affectionate and adores people. Being food motivated, we believe she will enjoy obedience training. She is a smart dog who wants to learn and please her humans. She now walks quite nicely on a leash and smiles often. Someone is going to be very lucky to adopt this pretty girl and help her blossom.
Mary Jane's Story: When we first learned of Mary Jane, she was in a rural LA shelter being treated for terrible neck wounds. No one could determine with certainty how she had been injured so badly. Mary Jane was not about to let her circumstances get her down and, with courage and spirit, she began her recovery with an AL vet. She is recovering nicely, her fur is growing in over her injured neck, and we have found her to be a lovely, affectionate dog who will blossom into a loving companion.
Mary Jane is a 7-8 year old female Labrador Retriever who is beautiful and almost always has a smile on her face. She is a classic lab with her gorgeous cream coat and gold ears, as well as her body structure, stance, and social personality.
She has behaved well at the vet clinic when out in the yard, not barking or showing negative behavior toward other dogs.
She loves to play with squeaky toys and has a good amount of energy. Her favorite toy is a ball with holes in it that has treats stuffed inside. Oh, and now that she has discovered treats, they are a favorite of hers, and she takes them gently. Mary Jane is a bit of a diamond in the rough who is just beginning to learn a dog's life can be good. She deserves someone who will take time to teach her basic obedience and leash skills, and she will love a good amount of daily exercise.
She loves attention and wants so much to learn and to please her humans.
If you would like a walking partner who will turn heads, she is your girl!! This happy, social girl will be an amazing dog for someone who will help her grow to her full potential.
Mary Jane is spayed, up to date on her vaccinations, and microchipped. At 65 lbs. she is a little on the thin side. Mary Jane is completing heartworm treatment and will be ready for her forever home the first of June. Don't miss out on this pretty girl with the cream coat and joyous personality! Please contact the
adoption committee
to be considered for Mary Jane. If not yet approved, please fill out an
application
to be considered.