Max - adoption pending!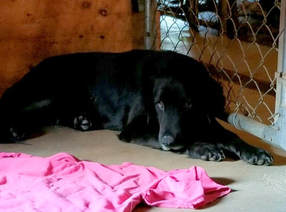 Max
is estimated to be about 5 years old and is a stunning black retriever mix, or as we affectionately call them, a "black golden!" The story goes that
Max
was found in someone's fenced-in yard, and it may be that he was abandoned there by his previous owner. The yard was jungle-like, totally overgrown, from what the Animal Control Officer relayed back.
Max
was so withdrawn when he was found that he would only go to the teen-age son of the homeowner. It is heart-breaking to see a dog so forlorn.
Max is shy and reserved when first meeting new people and needs time to gain trust in the humans caring for him. The vet staff has been working with
Max
and have a harness on him to get him up and about. He is eating and has come around more, but he is going to take time to settle and come out of his shell when he gets to his adoptive home. Max was introduced to a dog at the vet's office and was scared of the other dog, despite the dog's calm demeanor. We suspect Max could become accustomed to living with another dog, provided that dog is calm and balanced.
Despite that it appears Max was living in less-than-ideal conditions, there was someone in his former life that he is missing terribly. When
Max
goes to his forever home, we believe that he will have a transitional period of settling in. His humans must be relaxed and patient, and need to give
Max
the time he needs to adjust. Once a relationship based on trust, respect, and understanding is established, he will progress and unpack his baggage. What a beautiful thing that will be to experience! This is one boy that has touched a lot of hearts.
Because his former owner did not care enough about Max to give him monthly heartworm prevention, Max had to undergo heartworm treatment. He will be ready to travel north to be adopted in late Dec to early Jan. Max has been neutered, brought up-to-date on vaccinations, and microchipped. If you are approved to adopt through SGRR and would like a wonderfully, sweet companion, contact
Donna
to be considered to adopt this sweet soul. If not yet approved, please fill out an
application
to be considered.
Rescued dogs come with a range of needs - from behavioral to emotional to medical. When approved applicants adopt such dogs, they agree to take on whatever comes with the dog. It is up to YOU to continue the rehabilitation we have begun. This is what it means to rescue.
Black Dog Syndrome
Unfortunately, since the early 2000's, animal rescue workers have noticed an increasing phenomena called "
Black
Dog Syndrome," which is that
black
dogs tend to be adopted slower than dogs of other coloring. As a result, there are more
black
dogs in shelters, and they have a higher euthanasia rate – purely because of the color of their coat! In a recent survey done by the adoption website "
Petfinder
,"
Petfinder
member shelters and rescue groups reported that most pets are listed for 12.5 weeks on
Petfinder
, whereas, less-adoptable pets (such as
black
, senior, and special needs pets) spend almost four times as long on
Petfinder
.
You may ask, "What does this have to do with a
Golden
Retriever rescue?" SGRR often goes a step further than basic rescue, taking in dogs that might be thought of as "less adoptable" because of the physical conditions in which they are found. We have recently been taking in more and more of these special
black
dogs, many times considered to be
golden
mixes, into our rescue. We see an overwhelming interest in these "
black
goldens
," getting requests about them the minute we publish their picture on our site! You never know… that "
black
golden
" you see on our website may be a mix of wonderful breeds such as the Labrador or Aussie or Flat Coated Retriever! Either way, like all of our dogs, these pups are just looking for a family to look past their coloring and see their true "
golden
heartedness," to love them and make them their own! You'll be glad that you did.