Meet Team Sunshine!

Our Volunteer Board of Directors

Cheryl Alter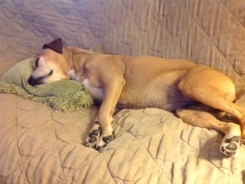 Cheryl has been a foster parent with our rescue for approximately ten years after she adopted one of the courtesy posted dogs ten years ago. Cheryl relays, "If my memory serves me, Martha brought Biscuit to me. As we talked, I said I was used to having three dogs, was down to two, said if you need some help in the future call me. Within two weeks I got a call asking for help. The rest is history."

After having lived most of her live in the DC metro area, Cheryl moved to Pensacola, Florida in 97 and is enjoying her retirement.
---
Kay Anderson
Kay is a retired emergency room nurse who moved to New Hampshire from Pennsylvania in 2004. After finding a small farm in Francestown, she began fostering dogs for the local shelter in Manchester, NH. Her love of Golden Retrievers led her to SGRR in 2012 where she has been very active in the fostering program. Most recently she has agreed to take primary responsibility for the review and approval of new fosters.

Her pack of three Golden Retrievers has grown to five dogs, with the addition of foster failures, Teddy and Artemis from SGRR. Kay loves her daily five mile walks with her pack on the rural country roads and enjoys adding the occasional foster.



---
Janru Galloway
Janru lived in Mobile, AL all of her life until moving to Fairhope, AL in 2012. She has been a Mortgage Loan Originator for about 33 years. Her love of animals, especially dogs, goes back to her childhood. "We always had a dog growing up," Janru tells us, "My passion and breed of dogs has always been Golden Retrievers. At one time I had 3 Goldens and 1 Lab. Needless to say, we had a house full. Two years ago, I lost both my precious Golden and Lab of 12 years to cancer, both in the same month. I decided then that I could not go through the sadness or loss again of losing something that was so dear to me and something that I loved so much. But, after a year and a half, I began thinking about volunteering for a rescue. I knew Lisa Hume and knew her intense involvement with Golden Retrievers. I pursued finding her and found out that she was in need of fosters of which then worked in to preparing the transport packages for dogs in this area. I had NO idea what went into this rescue and all the truly dedicated, caring, and loving individuals that are so determined in helping these deserving precious babies. It has truly been an eye opener and a fulfilling experience."

---
Barb Hopey
Barb volunteers for Sunshine as our northern veterinary consultant. She has been in practice since 1989 and became involved with Sunshine in 2008 after adopting Shadow, a 7 year old rescued Golden Retriever, soon to be 15 years old and still going strong. Barb currently has 4 Golden Retrievers, a Lab/Golden mix, a Rat Terrier, a Chihuahua and a Hound mix from the south. Eight dogs and rescue keeps her busy, but Barb likes spending her spare time on Nantucket.
---
Lisa Hume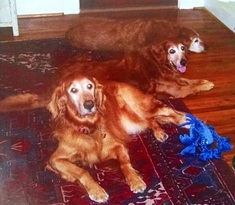 Rescuing since 2000, Lisa

Hume is our

unsung

southern hero who is directly responsible for saving the majority of the Southern Sunshine dogs we have taken in. Additionally, Lisa rescues many other non-golden dogs by referring them to other rescues, networking with rescue advocates throughout the South. Lisa is responsible for getting each dog vetted and ready before traveling north. Convincing vets to give rescue discounts, begging for space in clinics and boarding kennels, taking dogs some to medical specialists hours away from home, moving them from foster to clinic to clinic - so we can save just one more that day. Lisa also spends her days getting to know as many of the dogs as she can so we can place them in foster or adoptive homes in the north. She also arranges for the dogs' videos and pictures, and takes care of the Sunshine van - and all the day to day things that we are not even aware are happening.

Lisa and her husband, Pharr, enjoy life on the Eastern Shore of Mobile Bay in AL, with their two Golden Retrievers, Fargo & Caneel. Boating and fishing among their hobbies, and they are also devoted footballs fans of Alabama's Crimson Tide. They have one married daughter and two grandchildren who are the apples of their eyes.
---
Susan Love
Susan has been involved in rescue for the last ten years, joining SGRR about three years ago. For SGRR, she is involved in fundraising, volunteer training, promotions and marketing and building awareness of SGRR on Long Island, and northern intakes. Her fur babies include her Yellow Lab, Cody, and Goldi, a SGRR senior rescued from a shelter in eastern Long Island. Running the show at Susan's home, is a recent addition, Sammy the cat.

Susan told us, "I am proud to say Sunshine Golden Retriever Rescue has the most amazing group of volunteers I've ever been involved with - this is truly a community of like-minded people working towards making a better life for the animals in our care."

---
Nancy Marr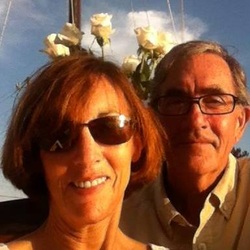 Nancy Marr is a transplant Fairhope from her home town of St. Louis, MO. While in St. Louis, she was the Director of Development at the St. Louis Ronald McDonald House as well as working for many years in the incentive travel industry.

Her affiliation with the SGRR began when she agreed to input data for our Rescue in order to help Martha. When she saw some of the calendars that were being created and sold by other rescue organizations, she offered to do the production work and to start one for us. She recently agreed to add to her responsibilities the payment of invoices from the veterinary clinics and to oversee our accounts, as Treasurer.

Nancy's husband, Mike Marr, does some video work for SGRR, making short, poignant movies of our rescues, enabling interested adopters to actually see their lovely personalities, which has greatly increased the interest and therefore the speed in which the dogs are placed.
---
Belinda Murano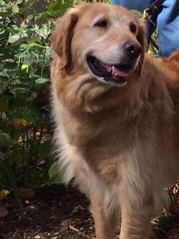 Belinda has been involved with SGRR since May of 2011. She and her husband moved to Old Saybrook, CT when they lost their two goldens about a year apart...a bonded pair named Kramer and Kady. They had considered waiting awhile before bringing another dog into their home, but once they saw SGRR's Maggie online, waiting was out of the question. So off to the Cape on Memorial Day weekend in the blazing heat they went to pick Maggie up. They both said that Maggie got into the car and sort of looked at both of the as if to say "I've been waiting for you". After Maggie crossed the bridge, another golden beauty came into their lives named Roxy (aka Agnes). She is currently the queen of their house.

Once Belinda and her husband had their first SGRR experience they were hooked. They both felt that Sunshine was exceptional and that they wanted to give back in some way. So when the call came from Donna asking Belinda to help with phone interviews and vet checks, she was ready. Soon she began home visits and her husband, Hap, would accompany her with their SGRR dog. Belinda currently serves on the SGRR Board as secretary and is involved with the intake of dogs in the north.
---
Kim O'Brien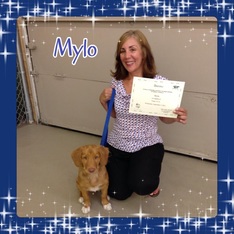 Kim has been involved in the foster portion of SGRR since 2007. With growing career demands, and young, active dog to care for, she has handed the foster reins over to to those who can give the program the attention it deserves. It has always been an integral part of the rescue program and without fosters, we couldn't do what we do. Kim continues to serve on our Board of Directors and continues to help out where ever she can.


---
Ava Pillinger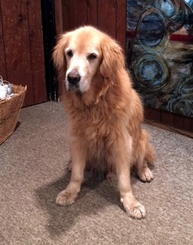 Ava has been working with rescue for nearly eight years. Presently, Ava initially reviews all adoption applications and assigns volunteers to start the process of evaluation. She also compiles a list of cities where a prospective adopter requires a home visit and coordinates that visit with a local SGRR volunteer. Before retiring to raise her children, Ava was a
travel agent which explains her love travel adventure. Having recently lost her beloved golden JJ, Ava directs her energy to helping to find suitable parents for our dogs in need.


---
Jeff Stevens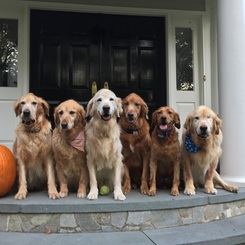 Jeff Stevens is the proud owner of 6 golden, his last 4 were adopted from SGRR. He rescued his first pair, Brutus and Brody, from SGRR in August 2010 and since then he has wanted to give back to the amazing group of volunteers who save so many dogs each year. These two dogs changed his life forever. He also rescued Maya in 2012 and Arlen came along. They join his previous two rescues, Morgan and Bear, to complete the pack of 6 dogs. Jeff had rescued 4 dogs before and his amazing experience dealing with Donna, Lisa and Martha changed his outlook on the adoption and rescue process. Jeff had rescued Goldens from other groups but found SGRR to be the most exceptional and well run rescue group of all.

Jeff helps maintain the adoption database and also happily does home visits and evaluates dogs who are relinquished in the northeast. SGRR honored Jeff's Mom, Meredith, in 2014 by naming a dog after his beloved Mom who was the biggest dog lover ever. Meredith was one day from being euthanized and SGRR pulled her from the shelter and saved her live and because of her character, strong will, and heart named her after Jeff's Mother. Meredith, the dog, joins the extended Stevens' family with another SGRR alum, Max, and his sister Annie.
---
Donna Toncic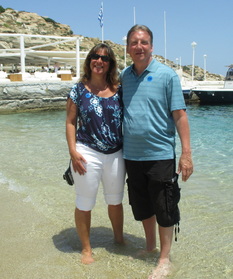 Donna Toncic has been part of the SGRR family since 2005 when she and her family adopted Sadie. Sadie arrived from AL just 2 days prior to Hurricane Katrina hitting the Gulf area and the need to immediately rescue dogs soared. Donna's heart ached seeing all the dogs that needed to be rescued as the result of Katrina and she began volunteering with SGRR. Like many of our volunteers, she started out doing vet checks, phone interviews, and home visits. She then initiated the adoption follow-up program. As SGRR grew, she was asked to oversee the volunteer group and the processing of applications. Presently, Donna focuses on SGRR's days to day operations. She works hand in hand with Lisa Hume in obtaining particulars about the dogs in the south to create bios for them, and then ultimately matches the dogs waiting for loving homes with the approved applicants in the northeast. A techie geek at heart, Donna also acts as SGRR's webmaster.

When she is not rescuing, Donna works as a medical insurance billing specialist. She can often be found running or hiking with her dogs near her home in Mercer County, NJ that she shares with her husband, Ken, and their 2 dogs, Sadie & Princess. Donna & Ken have 2 married sons. Craig and his wife,Vanessa, Jay and his wife, Jen - who are expecting their first child. Donna enjoys traveling, cooking, and spending time with her family.

---
Candy Van Sciver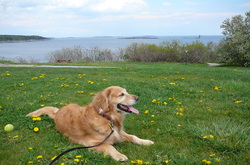 Candy's involvement with Sunshine began in 2006 when she and her husband adopted 13-year old Sampson from Alabama. Sampson was their first rescue experience, and they were hooked, as they watched him transition from a broken-down old yard dog to a happy and healthy Golden who enjoyed every day of his final two years. Helping happy families meet their dogs at transports led to conducting Sunshine applicants' phone interviews and home visits, and eventually helping Sunshine's senior dogs find their forever homes. Candy retired to Cape Cod, MA, in 2010, where she lives with her senior Golden Retriever, Jordan.


---
Our Supporting Volunteer Staff

Denise Apsey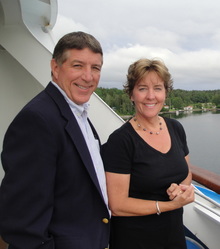 Denise began volunteering for SGRR in 2009, soon after adopting their first rescue Golden, senior Veli from SGRR. She started out helping with phone interviews, vet checks, and home visits. Living in Northern NJ at that time, Denise also assisted at the Spring Valley, NY transport stop. For a time, she also filled in for Candy, handling the senior adoptions. When Denise and her husband were transferred to VA in 2012, Denise took over posting the Sunshine dogs on Petfinder and Adopt A Pet, and assisting Donna with other tasks, as needed.

Denise's husband, Bill, retired in 2014 and they now split their time between the Jersey shore and Palm Coast FL. Their current Golden, Dozie, whom they adopted when she was 7, will turn 12 in November. In addition to Dozie, Denise and her husband have 2 sons; Doug who also lives in FL, and Chris, an Army Captain currently stationed in GA. Before retiring to raise their 2 boys, Denise was a Customer Service Manager with Mastercard and Lipton Foods.

---
Jessica Dixon

Jessica became aware of SGRR in 2012, when she and her family were looking for a playmate for their rescued Golden Retriever, Sammie. After they adopted SGRR's Tanner, Jessica was so impressed with their organization that she began volunteering, starting with home visits and vet checks. Over the last several of years, that has evolved into maintaining the SGRR Facebook pages, helping with the yearly calendar, running the blog on the SGRR website, and updating the website for our sister rescue J&L Golden Retriever Rescue. Jessica likes to consider herself a "Jill of all Trades" when it comes to SGRR.
Jess, shares, "Becoming involved with rescue has been such a rewarding experience. Sunshine is an amazing community of people that work selflessly on behalf of the dogs in our care. I consider myself blessed to be a part of this wonderful group of people, of whom many have become close friends."
Jessica lives in Southeastern CT with her husband, Shane, and their fur-kids, Sammie, SGRR's Tanner and SGRR's Molly (aka the foster failure), as well as their incredibly tolerant Siamese cat named Misha.
---
Patty Fredo

Patty tells us, "I used to make fun of people at work who were talking about their dogs all the time. At the age of 39, my sister and I adopted litter-mate Golden puppies and I became much worse than those people at work! My sister stopped at one Golden at a time, but we have had as many as 7, at least for one year. All of our Goldens have been rescues except for the first 2 puppies. The oldest boy we adopted was 12, making number 7 for that one year. Amber has been with us since she was 3. We were her fifth home and she is now 16.5!"

Patty has been involved with SGRR since 2013, when she and her husband adopted Ben, a boy who was given up because of severe storm phobia. Patty is a Northern Intake Coordinator for SGRR and says she is proud to be a part of this organization. Pictured are 3 of the current 4 Goldens that share the Fredo home in CT - Ben, Jake and Willoughby.

---
Michelle Hamed

Michelle joined the Sunshine family in 2013 after being adopted by Memphis, her SGRR blind Golden Retriever. Looking for a way to give back and pay it forward, Michelle is an Intake Coordinator, Freedom Ride Coordinator, and transport greeter. She also conducts telephone interviews and home visits for adopters. Centrally located in Connecticut, Michelle has given many a pup a ride in her Golden taxi, while sometimes serving as an emergency foster and babysitter to those who have begun their journey home. When an opportunity arises to meet a dog, Michelle is one of the first to raise her hand. She says that she gets paid in fur and has quite the collection to show for it. Additionally, she helps to coordinate vet care and training during her time away from her job in Human Resources for a local non profit healthcare company.

---
Kathy Kelly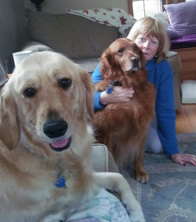 Kathy has been part of SGRR since 2013 when she adopted her tripod named Shelby. Shelby has a golden sister, Stella, and they are best friends. I have been retired since July 2013. In addition to interviewing potential adopters, Kathy has the enjoyable task of following up with adopters to learn how their dogs are settling in with their new family. In turn, Kathy reports back to the SGRR group about the happy tails.

Kathy & her husband live in Massachusetts. She babysits a couple of days a week for her grandnieces and grandnephews. She shares, "I love being retired and I love being a volunteer at SGRR!"

---
Donna Mayne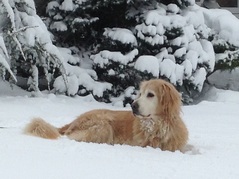 Donna has been providing a loving home to rescued Golden's for over 20 years.

It only became natural for her to align her passion for rescuing with Sunshine Golden Retrieve Rescue.

Donna partakes in many roles within SGRR.

You may speak to her during a phone interview or meet her in person during a home visit.

Donna also works with Kay Anderson assisting on the administrative side of fostering.

She is very active with our grant writing, securing additional monies for those rescues needing a little more tender care.

Additionally, Donna assists with special projects, working with along many of the board members.



The newest member to Donna's family is King, a senior Golden rescued at the age of 10.5. She and her husband reside in CT.
---
Christy Monahan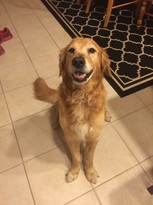 Christy found her way to Sunshine through her wonderful senior Golden, Zeus. She and her husband adopted Zeus from SGRR in the Spring of 2015 and had such an amazing experience, she started volunteering. Christy has conducted vet checks, phone interviews and home visits. She currently posts the dogs to one of the Petfinder sites that SGRR uses to give them more exposure to potential applicants.

---
Dawn Prentiss

Dawn joined Sunshine in 2009 after being impressed with the organization's support system and sense of forever family following the adoption of her beloved girl, Nala. Originally starting with vet checks, phone interviews, home visits and assisting with fundraising projects. Dawn reorganized the transport volunteer program in 2013 with the goal of ensuring the safe arrival of SGRR dogs as they are introduced to their new families as well as to provide SGRR adopters with that all important support system as they await their new pup's arrival.

In her spare time, Dawn can be found enjoying time with her family which includes her husband, four adult sons, three granddaughters and three crazy but lovable golden mix dogs.