Mikey - adoption pending!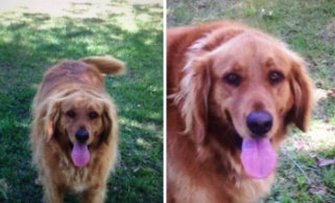 Mikey is a gorgeous 5 year-old purebred male Golden whose former family had decided they no longer wanted him and were in the process of moving. They attempted to re-home Mikey themselves and posted Mikey on Facebook. Fortunately, the initial placement fell through and our rescue was contacted to help "rescue" Mikey.
Because one of the other dogs in the home did not like Mikey, this fella was relegated to living most of his time outside, unless the weather was especially awful. This is no way for a dog to live but now Mikey has an adoption pending and is going to be living as a treasured companion should live!
This chunky monkey arrived to our rescue already neutered, but weighing 130 pounds and heartworm positive. He is now on a metabolic formula food to help start his weight loss campaign and has began his heartworm treatment. Mikey
is keeping his kennel clean and does not tear up any of his bedding or toys, a good sign that this boy is house-broken. He has lived with other dogs, cats, and with children as well. This is an all 'round NICE boy!
Mikey has been brought up-to-date on his vaccinations and is now microchipped. He will be arriving to his family in the northeast in late April. Mikey hopes you will consider one of our other wonderful dogs who are available for adoption!