Molly - adoption pending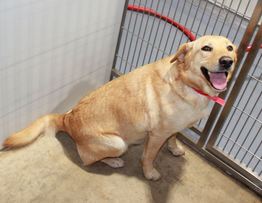 Marvelous Molly and her buddy,
Morty
, were picked up as strays by Mobile County Animal Control. They appear to have been fairly well cared for in their former home – neither dog shows any sign of abuse, neglect, and are both heartworm negative. It is baffling that no one came to the shelter to claim the dogs and it is difficult for us to understand the mindset that lead to such abandonment.
Molly is a happy go lucky girl that loves life! She is easily pleased and is a little on the shy side. She walks fairly well on the leash and likes to stop and smell the roses or take a roll on her back in the grass. She likes other dogs that will play with her or she would do fine as the only dog as well. We believe she is house-broken because she keeps her kennel nice and clean! Molly has turned out to be a total love bug. She will make a family or individual the most wonderful dog! She loves to be the center of attention and is extremely smart, learning very quickly. She is everybody's darling at the vet's office!
Molly is estimated to be about 6 years old and weighs in at about 45.6 lbs. This Golden Labby lady has been spayed, brought up-to-date on vaccinations, and micro-chipped. She will be ready to come north on 2/17/18 to be directly adopted. If you are approved to adopt through SGRR, please contact Donna at
SunshineGoldens@gmail.com
. If you are not yet approved, visit our
website
to fill out an application! We promised this baby she would never be a stray ever again. Won't you welcome Molly into your world and give her a loving forever home!?!