Nini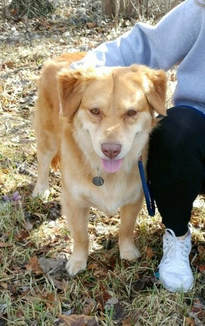 Nini was tearfully turned into our rescue when her mom went through difficult financial times. She had been a beloved companion for the past 4 years, having been adopted through another rescue as a puppy. Nini has lived with 2 other dogs, along with indoor and outdoor cats, and a variety of farm animals. She is sweet, kind, and loving to all she meets. This sweet 4.5 year old Golden Retriever mix is waiting for a quiet home, preferably with someone who is home more often than not.
Nini has a moderate energy level appropriate for a 4 year old dog. She was born with a bit of a malformation to her hocks but this does not impair her in any way. Like so many of us humans who have a hitch in our giddy-ups, when you meet Nini and get to know her, you'll see that this does not limit her. It's just part of who she is! Nini enjoys life to the fullest and loved playing and running with her canine siblings. And, she has no problem jumping up into her foster mom's car when they go for a ride. Nini does like a nice soft bed and area rugs on hardwood floors though. Her wish list includes another amiable dog for company. She is special, easy to live with and love, and she adores people - young and old - she even naps alongside her foster mom's niece when riding in the car!
Nini has a beautiful golden brown coat with some contrasting markings on her face, paws, and chest. She has liver-colored nose and lips, and has a big fluffy tail. She is simply stunning! Nini has had some basic training and knows the commands "sit" and "stay." She walks pretty nicely on the leash and loves car rides. Nini enjoys swimming and playing with her toys. But Nini's favorite thing to do is snuggling with her human on the couch or cuddling up in bed at nighttime. She is missing her mom very much and is confused about where she is now. We would like to see Nini feeling loved and cherished once again. This is a super sweet dog who deserves a loving forever home.
Nini's mom took very good care of her and she is up-to-date on all her vaccinations, is spayed, heartworm negative, and microchipped.
Nini is in a loving foster home near Boston and is waiting for her forever family to find her.
If you are approved to adopt through SGRR and would like to give Nini her forever home, please contact Donna at
SunshineGoldens@gmail.com
. If you are not yet approved, visit our
website
to fill out an application!
Rescued dogs come with a range of needs - from behavioral to emotional to medical. When approved applicants adopt such dogs, they agree to continue the rehabilitation we have begun.