Oakleigh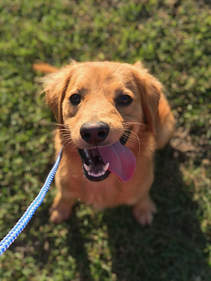 Oakleigh is an adorable
mini
Golden
mix who is about 2 years old. He was picked up as a stray, wandering around with a chewed up rope around his neck in the area of Oakleigh, AL. We assume he had been kept outside on this rope, got tired of being alone and hungry, and chewed his way free. He was contained by the local animal control officer, taken to a high kill shelter in Mobile City, AL and our rescue was contacted to save this boy.
Oakleigh is a happy fellow who has never met a stranger. He warms up quickly when making new friends and loves, loves, loves other dogs. As a matter of fact, in the over-crowded shelter, he was kenneled with two other dogs and was amicable to both, even in tight quarters. Weighing in at only 38 lbs, this little man needs to put on a few pounds to be at a healthy weight - probably topping out at about 45 lbs. He he has all the features of a purebred Golden Retriever, but has the look of a perpetual puppy. He is the perfect size for an adopter who wants a
golden
-style personality, but in a smaller package. Many folks seek these
mini
-Goldens as they are easier to manage and pick up if need be. What Oakleigh may lack in the proportion of a full-size
Golden
, he makes up for with the size of the love he has to offer. In his heart he is a big dog and you hardly even notice that he is small. Oakleigh is an active boy and his adopter will
need
to be active as well. Oakleigh soaks up attention and is a love-bug of a dog; affectionate and a cuddly.
Oakleigh has been neutered, brought up-to-date on vaccinations, and microchipped. He needs to complete his treatment for heartworms and will come north to be directly adopted on 12/2/17! If you are approved to adopt through SGRR and would like a wonderfully, sweet companion, contact
Donna
to be considered to adopt awesome Oakleigh. If not yet approved, please fill out an
application
to be considered.
Rescued dogs come with a range of needs - from behavioral to emotional to medical. When approved applicants adopt such dogs, they agree to take on whatever comes with the dog. It is up to YOU to continue the rehabilitation we have begun. This is what it means to rescue.