Potter - adoption pending!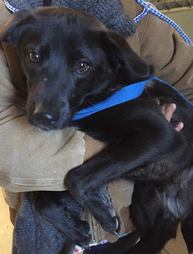 We received an email from a shelter in AL that often contacts us about our popular "black goldens," asking if we could take an adorable boy who was found in Mobile County, AL and went unclaimed. Seeing how beautiful he looked in the photo they attached and having a wonderful temperament, of course we said YES! His advocate at the shelter shared, "
Potter
is a 1.5 year-old male, who's about 35 pounds. He's a little shy, but
incredibly
sweet. He just let me pet him and hold him"
Potter
has soft, expressive eyes that seem to look right into your heart. He often looks to his humans for direction and assurance, and will then wag his tail to and fro when you say, "good boy!"
Potter
is a great size for someone who prefers to have a big dog but may not have the living situation to accommodate one. He is a happy fellow who loves everyone he meets! He is good with other dogs and is even tolerant of cats!
Lisa, our volunteer in AL, visited with Potter and remarked how sweet this munchkin is. "He was shy at first, like for all of 3 minutes, and then was totally friendly to me and to the 2 vet techs who were playing with him. He would rotate between all of us for some petting and loving! He has pretty nice manners and even when he jumps up, if you tell him "down," he will sit right in front of you like a good boy! Oh, and he LOVES belly rubs!"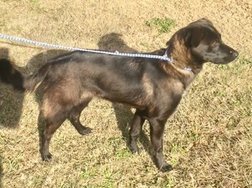 Potter
has a uniquely colored coat that is velvety black with a blaze of white on his chest and patches of golden throughout his body that glisten in the sunlight! This cutie patootie is up-to-date on vaccinations, heartworm negative, and microchipped. He was already neutered when he was picked up as a stray so we are certain he was someone's pet - what a shame they did not come looking for this wonderful boy! Potter needs some work on his leash skills but tries very hard to understand what he is supposed to be doing. With a little guidance, this boy will have leash walking down pat! While Potter does not have over-the-top energy, he is a young dog with a healthy level of energy so a somewhat active adopter is needed. Potter will be ready to come north to his forever home on 1/28/17. This boy is not going to last!
If you are approved to adopt through SGRR, contact the
Donna
to be considered to adopt
Potter
. If not yet approved, please fill out an
application
to be considered.