Punkin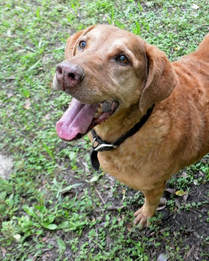 Punkin is a friendly, affectionate, 9-year old Chesapeake Bay Retriever.
Punkin lived with her family all her life. Although she spent her days mostly in the backyard, it was the life she knew, and suddenly it all changed. Her owners were moving and did not plan to take her along. A kind person stepped in to help find her a new home. But luck was not on Punkin's side and when time ran out, she was taken to the Mobile City Shelter. SGRR had heard about Punkin's fate and as soon as we had space available, we called around to ask if she had been adopted and learned she was still at the shelter. And that was the day that Punkin's luck changed for the better. This sweet senior girl is now safe and we promised her a loving home.
While Chessies were first bred in Maryland as serious field bird-hunting dogs, at home they
are known to be wonderful family dogs, loyal and loving. Chessies are smart and respond best to kind, patient training. They love to be near their people but generally do not need to be right underfoot. Punkin is easy and docile and will capture your heart with her pretty smile. She is happy, sweet as Southern pecan pie, and loves attention. Chessies are reputed to be hesitant about new people and will measure up strangers before accepting then, but not Punkin!! When a new person approaches Punkin, she does a gleeful bouncy dance in greeting, so happy to be spoken to or petted. Her owners said she is good with children and other animals
.


Punkin is spayed and heartworm negative. S
he will have some small growths around her mouth removed, complete her vetting, and get her microchip
. She weighs about 80 lbs, but is not overweight and she has no mobility problems. She is in great shape and is not a couch potato senior. She would love to go along and be included with her peeps.
Punkin will be ready to travel north on

December 9

so do not hesitate to ask about her. She is unassuming and precious, and it will be so rewarding to make her doggie dreams come true.
If you would like to be part of Punkin's rescue story, please contact the
adoption committee
to be considered. If not yet approved, please fill out an
application
to be considered.
Rescued dogs come with a range of needs - from behavioral to emotional to medical. When approved applicants adopt such dogs, they agree to continue the rehabilitation we have begun.