Regal Reggie's placement is on medical hold as he goes through some additional treatment for a recurring ear condition. We hope you will follow along as Reggie's loving foster family gets this wonderful fellow through his treatment. His antics are sure to delight you!
If you would like to sponsor Reggie (or any Sunshine dog) and would like to provide for the care of a particular dog's needs, please use the
Paypal
"single donation option" or mail a check to PO Box 247, Port Washington, NY 11050. We will note you as a sponsor on the dog's dedicated bio page. We thank you in advance for your generous support!
Reggie - on Medical Hold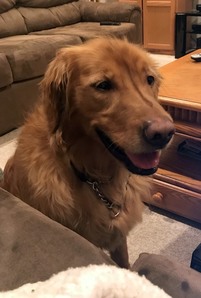 Update from Reggie's Vet 5/22/17:
Just wanted to give you an update on Reggie. He is doing well; taking the meds well at home and here when he boards with us in pill pocket "sandwiches." Today when I checked him there is no discharge (pus) in the ear and the ear canal is no longer red inside for the most part. I also didn't see any bacteria on the slide from the ear. The flap above, which had a yeast infection when I first saw him, is staying clean without any treatment from me now. I think the growth there is shrinking now that the area is no longer infected.

The ear canal is nice and open the outer half (about 1 cm in), but deeper in there is still swelling. It's basically still swollen shut, which will trap the infection and either make it likely to come back or not allow the existing infection to completely resolve. The steroid in the ear suppository and the oral steroid he is getting is helping to open that up. It looks better each time I look at it and we are just shy of 4 weeks into the treatment. I am pleased with the progress so far!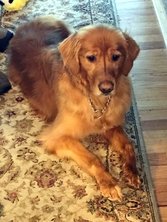 Update from Reggie's Foster Dad - 5/9/17: He always wants to be with you and even sits by your side when I'm watching TV. He loves other dogs, but no clue on cats. He hate birds and squirrels - so much so that he wants to eat them! He has excellent manners and bows for you to put on or take off his leash. Our daughter visited and he fell in love with her. He cried any time she would leave the room. He is such a good dog. Reggie has been taking all of his medication with no problems. He had a visit to the groomer's recently and is looking, feeling, and smelling like a new dog!

Reggie's Story
Reggie, or "Red" as he is affectionately known, came to our rescue after having a chronic ear infection for over a year. His former owners cared lovingly for this 4 year-old purebred boy and had a surgical procedure done on his ear to help with drainage. Unfortunately, Reggie came down with a MRCA infection in the same ear a few weeks after the surgery, requiring an additional procedure. Because the continuing comprehensive care that Reggie needed became too taxing on his elderly owners, the family felt it best for Reggie to find a new home. With the infection now behind him, Reggie has been staying with a skilled behaviorist in CT where he has worked to desensitize Reggie's reactive behavior toward having his ear touched. As can be seen in
this video
, wonderful progress has been made and "Red" is nearly ready to head to his forever home.
Reggie's former family shared such superb details with us, "Reggie gets very excited when anyone comes into the house as he loves people. Sometimes when people first come in, he jumps up, but only enough to get is feet off the floor slightly; he does not jump on people. He loves attention, always loved being scratched, and he loved to sit on my father's lap like a big lap dog! Reggie is crate trained, trust-worthy in the house, and he likes car rides. He does not have much experience on a leash and got most of his exercise in the fenced in yard where he loved fetching tennis balls. Reggie has been with other family dogs in his house. He does fine with them inside and especially loves to run with them in the yard. He enjoys spending time outside in the nice weather and would love to be part of his adopters' daily routine. Reggie knows the command, "sit," "down," "stay," and "paw." We have never seen any food issues at all – although my parents spoiled him with table food, so he is a bit of a picky eater. He doesn't like thunder, of course, but I haven't seen anything else bother him. He loves stuffed toys and carries them around like babies!"
Reggie weighs in at 55 lbs and is neutered, up-to-date on vaccinations, and is heartworm negative. Reggie is reported to be good with children. However, because of the sensitivity related to his ear, our rescue will only place him in a home with children over the age of 12. Additionally, his adopter will need to be mindful not to put Reggie in compromising situations. If you are approved to adopt through SGRR, contact
Donna
to be considered to adopt
this handsome boy
. If not yet approved, please fill out an
application
to be considered.