Russell - adoption pending!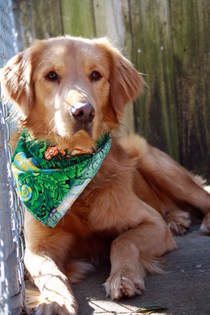 Russell is a handsome purebred Golden Retriever who is thought to be no more than 2 years old. He was picked up as a stray in Alabama and no one claimed this sweet boy. He was nearly shut down and very withdrawn at shelter initially, as though he was missing his former owner or home. It was only when Russell was put in a pen with another dog that he perked up. He is doing well now and greets his human friends when they come to his kennel. Russell is a bit timid but affectionate, pees a little in a submissive manner when he meets someone new. This boy has a pensive look about him, like he is asking...
"Is everything going to be okay?"
With some TLC and stability in his life, this fine fellow will be feeling confident again soon.
Russell weighs about 60 lbs and our vet feels that 65-68 lbs would be a good weight for this slender, field-style Golden boy. In true golden fashion, Russell is a champ at carrying toys around in his mouth. He has a gorgeous flowing coat that is medium red in color. Russell loves other dogs but has no history with cats. Russell is up-to-date on vaccinations, neutered, and micro-chipped. He is under treatment for heartworms and will come north 4/7, with an adoption already pending. Russell hopes you will consider adopting one of our other wonderful dogs! Contact
Donna
to be considered for another dog, and if not yet approved, please fill out an
application
for consideration.
Rescued dogs come with a range of needs - from behavioral to emotional to medical. When approved applicants adopt such dogs, they agree to take on whatever comes with the dog. It is up to YOU to continue the rehabilitation we have begun. This is what it means to rescue.