Saint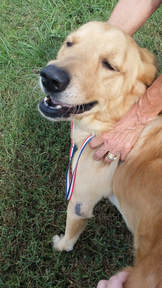 Saint spent much of his life on the end of a chair in his former owner's yard and his prematurely worn teeth are a testiment to his boredom. When the elderly man could no longer provide even minimal care for Saint, he took him to a shelter in Louisianan. In many shelters in the South, owner turn-ins are the first to be euthanized. Strays at least have a 5-10 day hold, giving time for an owner to claim then, which also gives time for a rescue to step in and pull the dog. Thankfully, our rescue was contacted and Saint's life was saved!
Saint is estimated to be about 3 years old. He looks very much like a purebred Golden Retriever, but came into our rescue in such sad shape at only 54 lbs, that it has not been easy to decipher. A healthy weight for this boy would be in the area of 70 lbs. Saint loves his food and is very food motivated, which will be an aid in training. He takes treats very gently and always wants one more! He is a super friendly fellow with a
look-at-me
attitude! When our volunteer stops by to visit with the dogs at the vet's kennel, Saint will bark to get her attention if she is giving affection to another dog. He is sweet, active, and is a hugger! Saint loves to run and, with some work on his leash skills, would make a great walking, jogging, or hiking companion. Saint is good with other dogs but has no history with cats.
Saint
has
been brought up-to-date on his vaccinations, neutered, and is now micro-chipped. He is under treatment for heartworm presently because his former owner did not keep him on heartworm preventative. He
will
be arriving to be directly adopted in late November - he hopes it will be in time for TURKEY! This affectionate boy is not going to last! If you are approved to adopt through SGRR, contact
Donna
to be considered to adopt this incredible boy. If not yet approved, please fill out an
application
to be considered.