Sam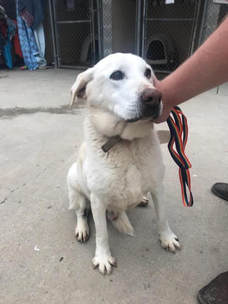 Introducing Sam — a handsome, gentle and kind senior lab. If you like laborador retrievers, this beautiful dog will grab your heart in a minute. Sam is 8 years old, about 70 lbs., and he is a knock-out. He has a lush, thick coat that is almost pure white.
He is great on a leash, and has a moderate energy level. He is friendly and affectionate, and loves being petted.
Sam gets along nicely with a young, exuberant Golden at the vet clinic, and was kenneled with another dog at a shelter in AL without any problems.
So how did this great dog end up in need of a home? A pet-sitter was called to feed Sam in southern AL while his owner was on vacation. What the pet-sitter found was Sam living outside and tied up, 24/7, even during the recent severe cold spell that brought temperatures down to 5 degrees in the south. We do not know how long Sam lived outside, but the pet-sitter was appalled and took him straight to a shelter. When contacted, Sam's owner was not interested in taking Sam back. That was Sam's lucky day. His fortunes have turned around and he looks forward to having a loving home where his people appreciate him and where he will never be cold and alone again.
Sam is a little weak in his back end, so he was x-rayed, and it turns out his only issue is that he doesn't have much muscle mass in his back legs. This is most likely due to staying tied out in his yard with no exercise. With regular walks Sam will be able to build up his strength and improve. He is neutered, updated on his vaccinations and microchipped. Sam tested a "low positive" for heartworms and will be going through heartworm treatment. He had a little skin tag removed from his eye and he's looking mighty handsome! He will be ready to travel north to his home on

April 7

th.
We envision Sam living with a family who will give him quality time and companionship, include him in walks and activities, and provide him with a soft bed and good nutrition
.
If you would like to be part of Sam's rescue story, please contact the
adoption committee
to be considered. If not yet approved, please fill out an
application
to be considered.


Rescued dogs come with a range of needs - from behavioral to emotional to medical. When approved applicants adopt such dogs, they agree to continue the rehabilitation we have begun.