Selina - adoption pending!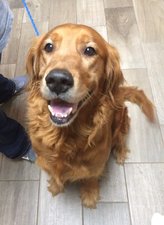 Divorce is a painful process, and not just for people -- it can negatively affect a dog as well. Sweet Selina was turned in to our rescue by her owner after her family went through a divorce. As a police officer, working 16 hour days, he did not have adequate time to spend with his beloved pal. He had been leaving her out in the yard all day, with his nephew coming over after school to play with her daily. One day, the nephew left the gate open and Selina got out and got bumped by a car. Fortunately, she had no injuries and her dad realized he needed to find a better situation for her. Selina is good with dogs and grew up with kids. She weighs about 60 lbs. and had her 6th birthday in December. This girl has a ton of energy and loves to fetch. We will be seeking an active home for Selina where her humans are home most of the day with her.
Selina's previous foster family in AL shared, "Selina is absolutely gorgeous. She is deep red and is so pretty. She is very sweet and loves attention. If you're only petting her with one hand, she nudges at the other hand so she has both hands petting her. She loves all people but is especially attached to her foster dad and is drawn toward men. Because she can't do much while under heartworm treatment, we can't do a whole lot of playing, but she does like tennis balls. She would really love to play fetch and she does like other toys as well. She knows the commands "sit" and "lay down," but may have to be coaxed a little to do them; I think because she is excited, but boy, is she is a smart girl! She does tend to pull on the leash so she may need a little more work there. Selina has had no accidents in the house - we keep her confined to a room while we are gone and she does well. The only thing she has chewed on is her own blanket, and it was just a little bit."
Selina has been spayed, brought up-to-date on vaccinations, and is microchipped. She has completed her treatment for heartworms and is now with a foster family in MA! If you are approved to adopt through SGRR and would like a wonderfully, sweet companion, contact
Donna
to be considered to adopt Selina. If not yet approved, please fill out an
application
to be considered.